I made it a point to have outside lawyers play a part in my course at Notre Dame Law School. I don't know from pedagogy, so not a lot of forethought went into that decision. I simply figured that I should try to give my students a glimpse of the role of contract drafting in the larger world, rather than just the necessarily narrow view that I'm able to give them.
My first week, Brian Rogers and ur-blog-commenter Michael Fleming conducted a mock negotiation for a confidentiality agreement. The next day, Molly DiBianca and Dan Schwartz went through a similar exercise for an employment agreement. In both cases, I had my students draft the related contract.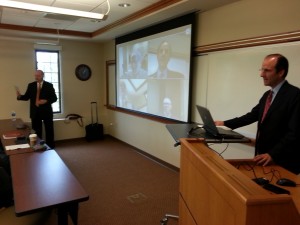 Then today, I convened a panel discussion on "Issues in Contract Drafting." Participating by video were two kaiju of the transactional world, Glenn West and Steve Weise. Present in person was John (Fitz) FitzPatrick, an in-house lawyer of great energy and insight. My students asked most of the questions. The one guy who didn't say much was me, and that was the point: my students had heard plenty from me already.
I thought it went very well. Thanks to Scott Hengert and his colleagues at Notre Dame Law School, who worked with their counterparts at Weil and Proskauer to sort out the technology. Given that we weren't able to use one of the rooms set up for videoconferencing, we made do with webcams, which added an quaint "Let's put on a show!" quality to the event.
I'm left wondering whether such outside participation is a novelty or whether it adds sufficient value to make it a fixture in my course. I'm not sure I'm the best person to answer that. I expect that my students will let me know what they think, and I'd be happy to hear from readers.
And then there's the question of scale. Today's audience consisted of my students and a few from the broader law-school community. If such a panel discussion is worth doing, why not have other schools join in? Students from other schools could send in questions. I mention this possibility simply because (1) people of the caliber of today's panelists deserve a broad audience and (2) I'm not sure how many faculty at other schools are able and willing to put together this sort of event.
Something to think about. My thanks to all who took the time to participate in my course.