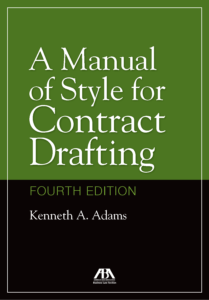 Ken Adams is the author of A Manual of Style for Contract Drafting. It's the only authoritative guide to the building blocks of contract language, and it's in widespread use throughout the legal profession. The first edition was published by the American Bar Association in 2004; the fourth edition was published in 2017.
You can buy print and ebook versions of the fourth edition from this page of the ABA Web Store. (If you want it sent to Canada, see this blog post; for information about how to use the ebook, see this blog post.) It should be on Amazon in the spring of 2018.
And you can now buy the print version (at a discount) and the Kindle version at Amazon, here.
Here are the table of contents, foreword, preface, introduction, and index to the fourth edition. And here's an extract of the back-cover text of the fourth edition:
With A Manual of Style for Contract Drafting, Kenneth A. Adams has created a uniquely in-depth survey of the building blocks of contract language. First published in 2004, it offers those who draft, review, negotiate, or interpret contracts an alternative to the dysfunction of traditional contract language and the inertia and flawed conventional wisdom that perpetuate it. This manual has become a vital resource throughout the legal profession, in the United States and internationally.

This is the fourth edition of A Manual of Style for Contract Drafting. It contains almost one hundred pages of new materials addressing many topics, making it even more authoritative and essential.

This manual's focus remains how to express contract terms in prose that is free of the archaisms, redundancies, ambiguities, and other problems that afflict traditional contract language. With exceptional analysis and an unmatched level of practical detail, Mr. Adams highlights common sources of confusion and recommends clearer and more concise alternatives. This manual is organized to facilitate easy reference, and it illustrates its analysis with numerous examples. Consult it to save time in drafting and negotiation and to reduce the risk of dispute.
See reviews of the fourth edition by Casey Flaherty, John Gillies, Jason Steed, and Charles Drayson.
If you're familiar with the third edition, you might find of interest the table of contents of the fourth edition, marked to show changes from the third edition (here).
Go here to listen to a 2013 American Bar Association podcast of a 37-minute conversation with Ken Adams about the third edition of the book. See reviews of the third edition by Mark Anderson, Brian Rogers, Dan Harris, Professor Daniel D. Barnhizer, Dean Irma S. Russell, Daniel Schwartz, Luis Villa, and Matthias M. Edrich.
Testimonials
Here's what people said about the second edition of A Manual of Style for Contract Drafting:
A Manual of Style for Contract Drafting is filled with practical advice. It certainly fills a need the vast majority of agreements out there violate the principles Ken Adams states so clearly. Every lawyer who drafts or interprets contracts should have a copy of this book within reach.

Michael A. Woronoff · Partner · Proskauer Rose LLP
***

Every transactional attorney should have Ken Adams's A Manual of Style for Contract Drafting on their bookshelves. In the same clear, concise language that contracts themselves should use, Adams explains the mechanics of contract drafting. His book should serve as the bible of contract drafting for years to come.

Steven M. Davidoff · Associate Professor of Law, University of Connecticut School of Law · New York Times "Deal Professor"
***

A Manual of Style for Contract Drafting is an essential reference work for transactional lawyers whether they're based in the U.S., Europe, or elsewhere who wish to draft clear and precise contracts in English. It demonstrates convincingly that lawyers and their clients would both benefit by purging from their contracts the archaisms, redundancies, and trite lawyerisms that too often feature in mainstream drafting.

Scott Chalmers · Associate · London Office, White & Case (Europe) LLP
***

Since the first edition of A Manual of Style for Contract Drafting came out, it has proven to be an indispensable reference tool for drafting purposes. The second edition confirms its unique position amongst texts on drafting techniques in terms of its comprehensive, practical and user-friendly approach. Encouragingly, from the perspective of a non-US lawyer, the manual continues to be highly relevant and useful to lawyers from other common law jurisdictions and also to lawyers generally who draft contracts in English.

Andrew Godwin · Former Partner at Linklaters Shanghai · Senior Lecturer, Melbourne Law School
***

A Manual of Style for Contract Drafting is a must for anyone who works regularly with contracts of any kind. It's a unique resource, and I defy anyone to make sense of contract language without it.

Cynthia Sternberg · Contracts Manager · InnoPath Software, Inc.
***

A Manual of Style for Contract Drafting is an invaluable resource for the transactional attorney. The discussion of ambiguity is particularly useful, and the chapter on materiality and material adverse change provisions offers essential guidance for these uncertain economic times. Read the book to gain an understanding of its principles, then keep it handy when drafting or reviewing contracts.

Steven H. Sholk · Director · Gibbons P.C.
***

Anyone tempted to believe the old stereotype of lawyers always writing mumbo-jumbo full of archaic jargon and tangled syntax should take a look at the second edition of A Manual of Style for Contract Drafting. Kenneth Adams is one lawyer who writes with clarity and linguistic insight. He has made a really serious study of how normal Standard English can be used to make contract language clear and unambiguous. His thorough understanding of grammar in modern terms, stripped of the bugaboos shines out from every page.

Professor Geoffrey K. Pullum · Head of Linguistics & English Language · University of Edinburgh and co-author of The Cambridge Grammar of the English Language
***

When lawyers use legalese, we risk alienating nonlawyers. In that regard, A Manual of Style for Contract Drafting has helped me serve my clients more effectively by following Adams's recommendations for clear and efficient contract drafting, I've been able to reduce the language barrier between me and my clients.

Daniel P. Harris · Partner · Harris Moure
And here's what reviewers said about the first edition:
This book should be a welcome additional reference book to any lawyer's bookshelf. It provides valuable suggestions that will bring your agreements into the twenty-first century. All of Mr. Adams' suggestions and advice serve to satisfy his goals of generating concise contracts that use standard English and lead to easily readable and understandable contracts. While following Mr. Adams' suggestions may take more effort than following a firm's standard contract language and provisions, it will benefit the firm and all parties it does business with and for in the long run.

New York Law Journal
***

A Manual of Style for Contract Drafting should be added to every law library. Better yet, it should be within easy reach of every attorney regularly drafting contracts.

New Jersey Lawyer
***

I get a surprising number of requests from people wanting to know good resources to learn about how to review and draft contracts. I've found a great new book that I will consistently be recommending. It's by Kenneth A. Adams and it's called "A Manual of Style for Contract Drafting." If enough people read this book and follow its principles and examples, we'll all have an easier time dealing with contracts.

Dennis Kennedy · computer lawyer · blogger
***

Every serious transactions lawyer should have this book. The section on "material adverse change" alone is worth the price. It is the most thorough and careful book available today on legal drafting.

Wayne Schiess · Director of Legal Writing · University of Texas School of Law