I noticed that the National Security Agency and the Department of Homeland Security have finally acknowledged that merchants who use images and names of those agencies on parody merchandise aren't violating any federal laws. How big of them. Go here for Public Citizen's press release.
But what's of particular interest to pointy-headed me is the settlement agreement between the agencies and Dan McCall, the activist who pursued this matter. (Go here for a PDF.)
It is, or course, full of traditional contract legalese, from the all-capitals in the introductory clause ("THIS SETTLEMENT AGREEMENT AND GENERAL RELEASE") to the archaic format of the dates in the signature blocks ("this 13th day of February"). But that's hardly exceptional.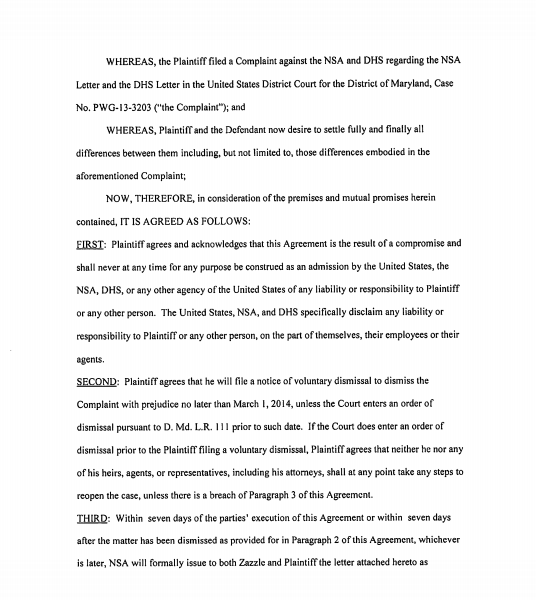 What caught my eye is the enumeration used for the sections. Instead of using arabic digits with section headings, the sections are enumerated "FIRST:" through "NINETEENTH:", without descriptive headings.
That looks like the enumeration used in old-fashioned pleadings. I suspect that one can file this under "When litigators draft contracts."