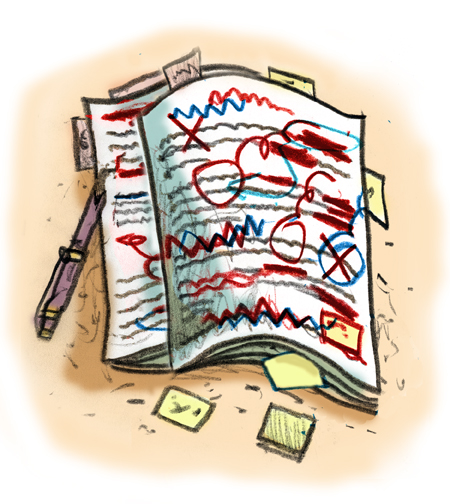 This week I received the following inquiry from a reader:
I'm a lawyer, and I've been working with contracts for the past five years. Your blog has been the first place I look for guidance on drafting questions. Thank you for being a great resource.

I find that many lawyers resist implementing the modern approaches you discuss. Typically, I feel that I'm forced to accept the usual archaic stuff. For example, a lawyer on the other side of one deal accused me—while my client was on the call—of wasting my client's money by pointing out drafting issues.

Do you have any advice or resources that could help me convince others not to blindly accept what they're used to?
We're not dealing here with how the other side responds to your draft. (For more on that, see this post.) Instead, it's a matter of how you respond to their draft.
I'm afraid that it does make sense for you to accept much archaic stuff. If an archaism won't ever lead to a fight, nothing is gained by asking the other side to strike it. So don't object to, say, witnesseth or the traditional recital of consideration, or ask that the other side get rid of some shalls. All you would do is waste time and aggravate people.
But that still leaves a lot to comment on. And the more that's at stake, the greater the chance of a bit of confusion leading to unhappiness. So to use an easy example, I'd always ask the other side to strike and hold harmless from indemnify and hold harmless.
Sometimes the issue might be a subtle one, but if enough is at stake and I can point to a problem caused by the usage in question, that would be enough for me to ask that it be fixed. For example, use of may in restrictive relative clauses seems a modest enough issue, but this 2014 post describes how it confused one court.
What happens if the other side objects to that sort of change? Explain to them why you requested the change: the usage in question is not only awkward, or archaic, or ungrammatical, it could also result in a fight. Readers have told me that invoking A Manual of Style for Contract Drafting—even flipping to the relevant page—has helped them make this sort of point. If whoever is on the other side is sensible and has half a brain, they'll realize that you're trying to improve the draft for everyone.
How do you behave if the other side is obstructionist? I'm not equipped to hand out that sort of advice, as it's been too long since I did deals, but I suspect it all depends on the people involved and who has the most leverage. I expect I'd get testy, but that's just me :-)
Any suggestions?