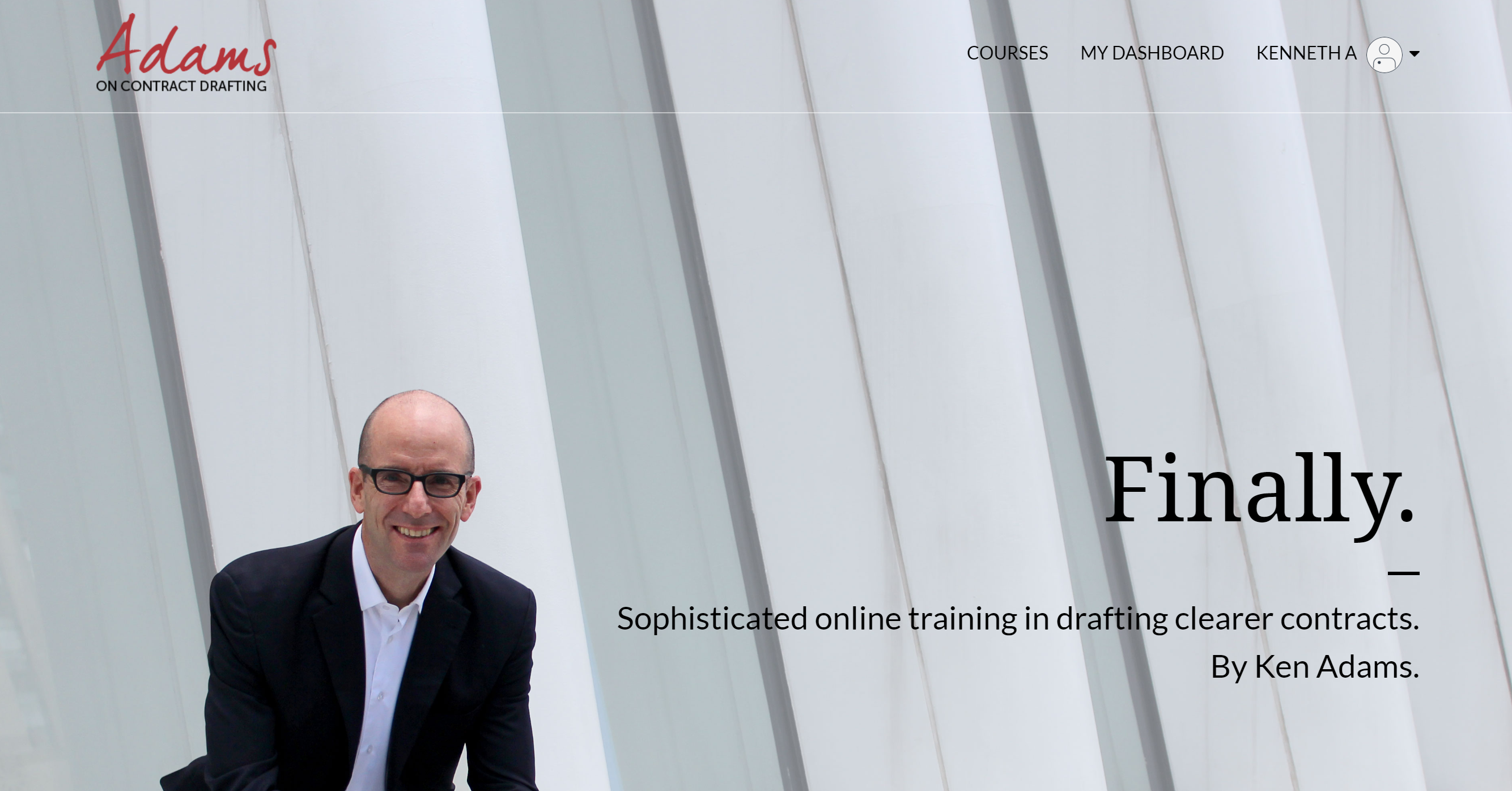 I'm pleased to announce that you can now register for my new online course, Drafting Clearer Contracts: Masterclass.
The Course
This course is built around eight live hour-long sessions held once a week and supplemented by reading, quizzes, and short assignments. Go here for the course outline. The goal is to help you say clearly whatever you want to say in a contract. It's intended for anyone who drafts, reviews, or negotiates contracts, whether they're a lawyer, businessperson, contract manager, or paralegal, and wherever in the world they work. Sessions for individuals are limited to 15 participants, so everyone has a change to engage. I also offer this course to organizations that want a group to participate.
I act as a facilitator, not an assessor. I provide the foundation and the materials, and I engage with participants. It's up to participants to decide what they wish to put into it.
I'm starting with three different series of the course. I'll keep adding more.
For complete details, go to the home page for the course, here. And go here for information about the different training options I'll ultimately offer.
Why I'm Offering It
This course makes my training accessible to a much broader audience: relatively few people are in a position to attend one of my in-person Drafting Clearer Contracts seminars (whenever I'm able to do them again). It's also a more intense form of training than my in-person seminars. Developing this course was a sensible step for me to take; it took the pandemic for me to think of doing it.
This course represents a big step forward in training in contract drafting. If it works, it will be for the following reasons:
 A Manual of Style for Contract Drafting offers a comprehensive set of guidelines for clearer contract language. It constitutes the foundation for the course.
My years of rooting around in contract language have given me much material to work with. For example, participants will be invited to take a 50-question quiz on ambiguity.
For the live sessions, I'll be able to draw on my experience in giving hundreds of in-person seminars.
Accepting training involves a leap of faith. I hope my credentials will make people comfortable about making that leap.
Technology (in particular Zoom and the online-learning platform I use, Thinkific) has made this sort of course possible.
Thank You
Some thanks are in order. Allison Graham was a big help. I took her course on building an online program, and I retained her to get the benefit of some quick advice. She introduced me to Thinkific, and she saved me much time by telling me what other services I should use and showing me the steps involved.
My web designer for the past 15 years, Selene Bowlby of iDesign Studios, was kind enough to agree to put the pieces together and figure out the details, even though she specializes in WordPress and had never worked with Thinkific before. As usual, she was efficient, cost-effective, and a pleasure to work with.
A group of volunteers gamely took part in a trial run of Masterclass. They had the dubious pleasure of witnessing fumbles, wrong turns, and glitches. I thank them for their patience, advice, and enthusiasm: the course is a lot better for it.
I hope to see some of you in Masterclass!