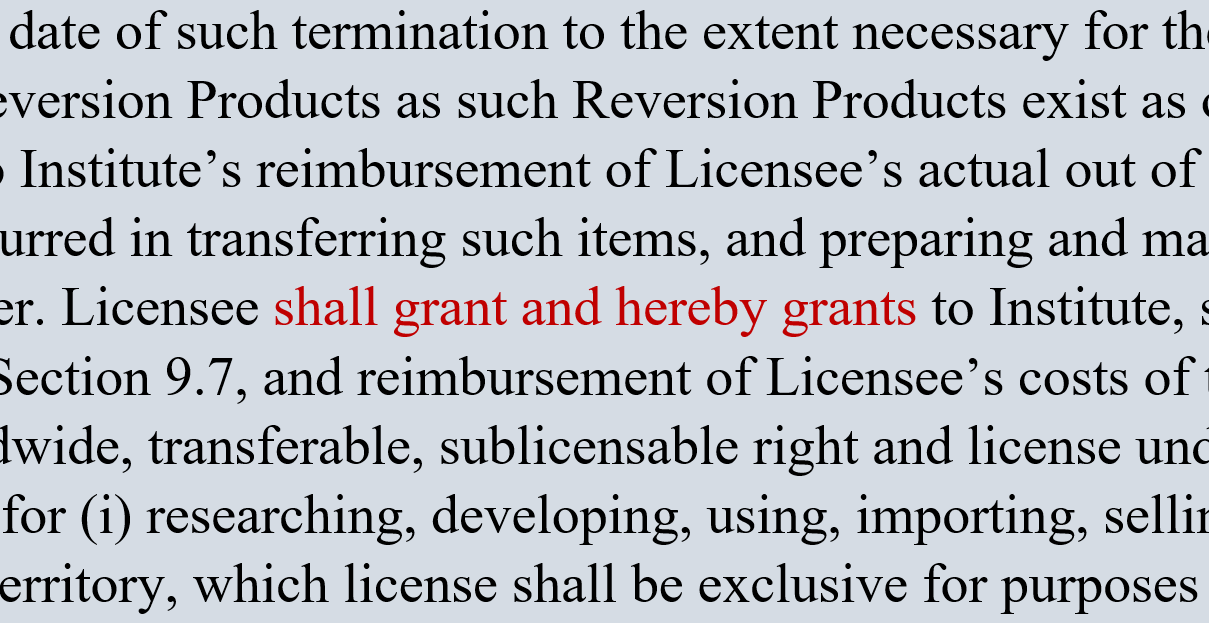 In this post a couple of weeks ago, I belatedly introduced the topic of dual verb structures. Here's another dual verb structure: shall grant/assign and hereby grants/assigns (and variants). It appears in provisions relating to intellectual property:
Upon the completion of such transfer, Xenon shall, and hereby does, assign to Neurocrine all such Regulatory Materials …

Effective on the Collaboration Start Date, the Parties shall grant, and hereby grant, each other the following licenses: …

Licensee shall grant, and hereby grants to Institute, subject to Institute's payment obligations under Section 9.7, and reimbursement of Licensee 's costs of transferring such materials, a perpetual, worldwide, transferable, sublicensable right and license under such know-how, data and information solely for (i) researching, developing, using, importing, selling and offering for sale Reversion Products in the Territory …

upon the effective date of termination, Celgene shall grant, and hereby grants, to Jounce a non-exclusive, worldwide license, with the right to grant sublicenses, under any Patents or Know-How Controlled by Celgene or any of its Affiliates that arose from the Parties ' activities under this Agreement …

Licensee shall and hereby does assign to Verastem all right, title and interest in and to any Inventions covering the composition of matter or the method of use of Licensed Compound or Licensed Product or solely related to the Licensed Compound or Licensed Products …
This is majorly effed up, as each of these examples seeks to do some sort of Schrödinger's cat thing—the cat's both alive and dead!—by employing language of obligation and language of performance simultaneously. Cray-zee. This sort of thing is why I think of IP drafting as a mutant form of drafting.
So I consulted my one-man intellectual-property Delta Force, Ned Barlas, of the Philadelphia law firm Semanoff Ormsby Greenberg & Torchia (and advisor to LegalSifter). Here's what he had to say:
It is well-established law in the United States that a would-be inventor can, through language of performance (hereby assigns), transfer their ownership interest in a patentable invention before it is even conceived. Courts have viewed such a transfer as an assignment of an expectant interest, with the assignee holding equitable title that automatically matures to legal title once the invention is made and a patent application filed. The concept of a pre-invention assignment is analogous to the common practice of granting an interest (for example, a security interest) in after-acquired personal property.

But a present assignment or a grant of an interest in future intellectual property might not be effective in all circumstances or for all forms of intellectual property. In that regard, using both language of performance (hereby assigns) and language of obligation (shall assign) in a pre-invention assignment contract appears to be an awkward attempt to address a legitimate issue by providing for a fallback if a present assignment doesn't work. Unfortunately, using both verb structures jammed together makes it sound as if shall assign announces what is about to occur by means of the language of performance that immediately follows—sort of like a bad magician who announces "I shall next pull a rabbit out of my hat!" just before doing so.

It would be far clearer to have language of performance (hereby assigns) in one sentence, followed by another sentence containing language of obligation in which the assignor undertakes to sign in the future, at the assignee's request, whatever documents are required to effect an assignment, if the pre-invention assignment turns out to have been ineffective.
Indeed, Ned and I elected to use this approach in an article we've been working on: language of performance in one sentence followed by language of obligation in another, to ensure that one way or the other the interest is transferred to the assignee.
Of course, EDGAR never fails to surprise, so you can find this dual verb structure in contexts where the excuse available in intellectual-property contexts—they were trying to address a legitimate issue in a half-assed way—doesn't apply. Here's an example:
… Borrower or its Restricted Subsidiary shall grant and hereby grants to Administrative Agent and its agents, advisors and consultants access at reasonable times, and upon reasonable notice to Borrower , to such Real Property …