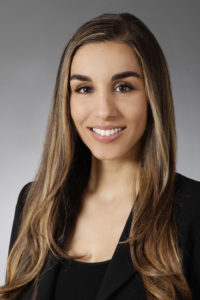 We all like buzzwords, but in this post I return to a concept that might elicit not buzz but chirping crickets: document assembly.
Yes, document assembly has been around for a while, and many don't find it particularly exciting, but document assembly is the only way to scale up quality contract content, so it has always had my attention.
Perhaps the best-known document-assembly product is Contract Express. Contract-lifecycle-management software (Exari, Apttus, and the like) offers document assembly of varying degrees of sophistication. There's even an open-source product, docassemble. Today's Q&A is with Dorna Moini, co-founder of a new document-assembly product, HelpSelf. (That's her photo to the right.)
***
Ken: Please tell my readers a bit about you and your co-founder.
Dorna: I'm a former litigator. I worked at Sidley Austin until the end of 2017, and I started HelpSelf to use automation to expand the pro bono work I was doing at my firm.  My co-founder is Michael Joseph, an engineer who has spent over 15 years building software, including working with large, complex datasets and form-based inputs.  Michael has expertise in privacy and data security, which is very important for our software.
Ken: What is HelpSelf, and why did you start it?
Dorna: HelpSelf is a document-automation software company. My co-founder and I started HelpSelf to help self-represented litigants navigate the legal system. After we launched a platform that allows domestic violence survivors to obtain restraining orders against their abusers, we had legal aid organizations and university clinics across the country asking us to build similar tools, but in other jurisdictions and for other areas of law. So we decided to create the Document-Automation Bot. It puts the power in attorneys' own hands, so they can customize their own guided interview questions and the documents that are created.
Now, anyone can use the Document Automation Bot to create their own "TurboTax for law" or automate their internal processes. We strongly believe that technology is a crucial piece in making legal services more affordable, particularly for constituencies that don't have access to a lawyer (whether because of cost, distance, or time). We think our view has been validated by the sheer number happy clients and successful outcomes achieved by our clients using customized tools created with the Document Automation Bot for tasks ranging from corporate contract drafting to family law and housing law.
Ken: How does the Document Automation Bot work?
Dorna: There are two tabs that the template-creator interacts with on the software platform, one for the creating the interview and the other for uploading the output documents. The interview allows the user to customize the questions they want to ask, including adding logic and conditions to the questions. Then, the user "tags" those questions on the "Output Documents" tab. Tagging means that the user identifies where on the document a certain user answer should populate. They can be either Word or PDF documents. Once that's done, the interview is ready to go.
These screenshots will show you the process:
Screenshot 1: The Interview tab allows the attorney to customize the questions for the guided interview.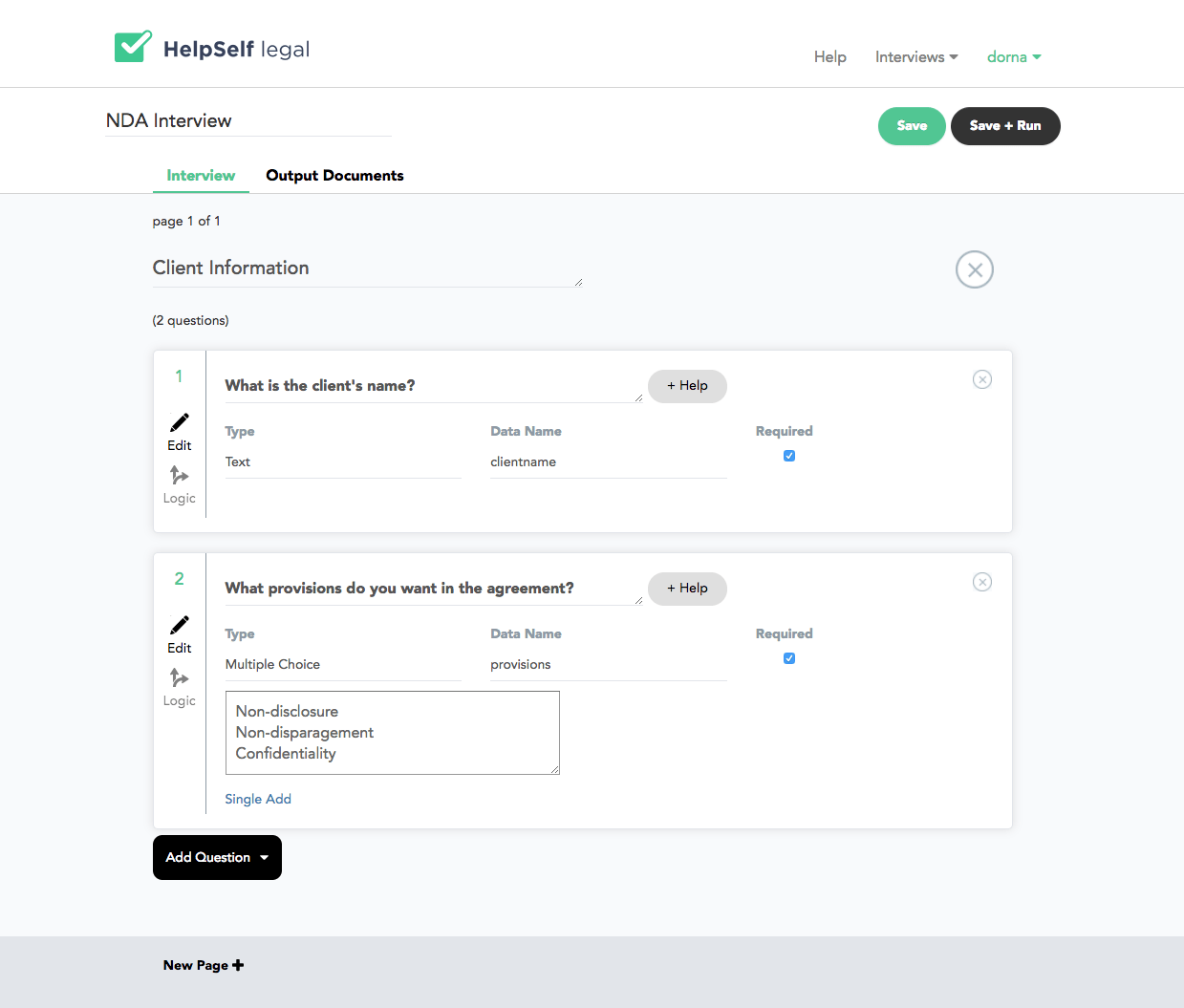 Screenshot 2: On the Output Documents tab, the attorney uploads their template PDF or Word documents.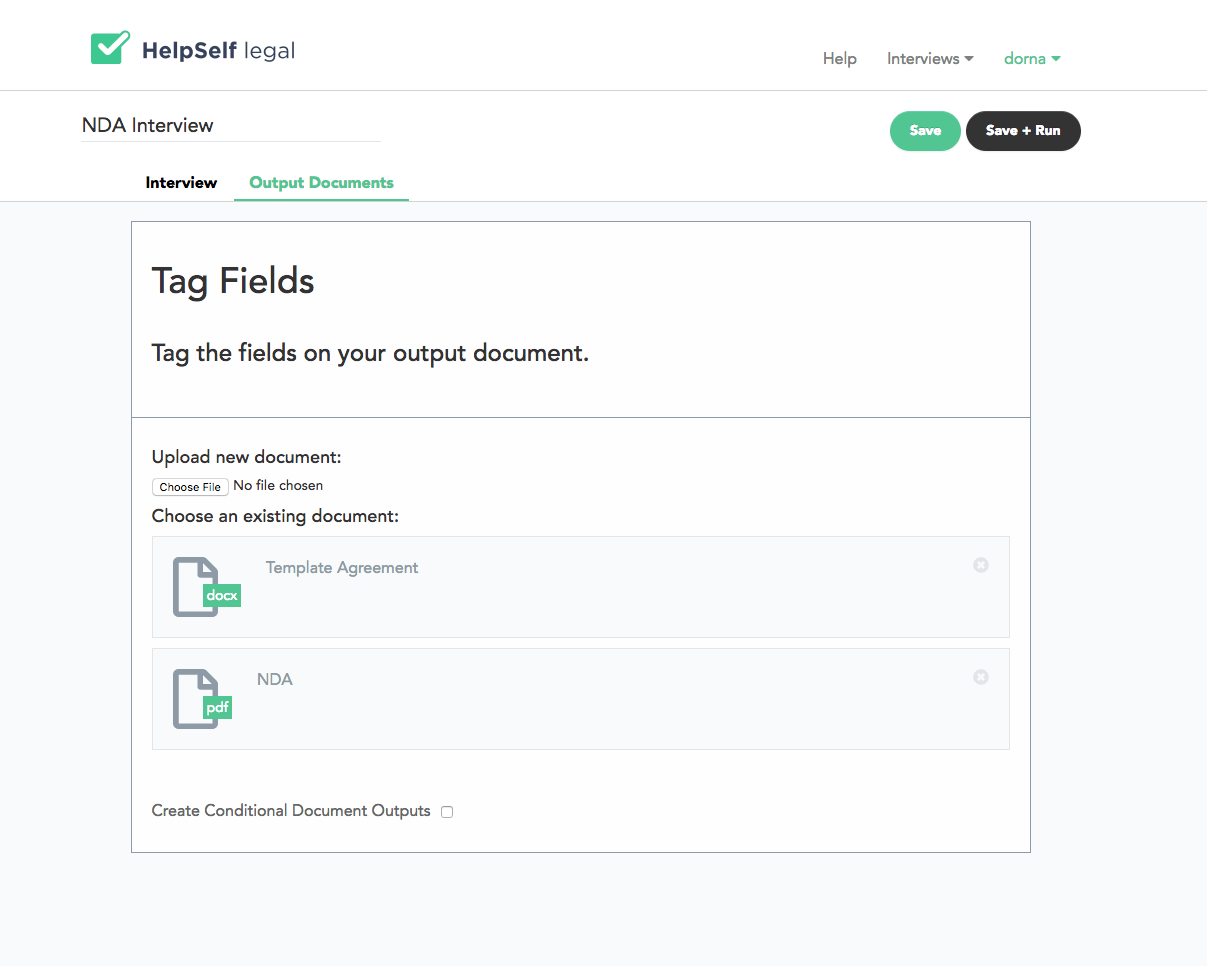 Screenshot 3: After end-users take the online interview, they are presented with fully-populated file-ready or execution-ready documents.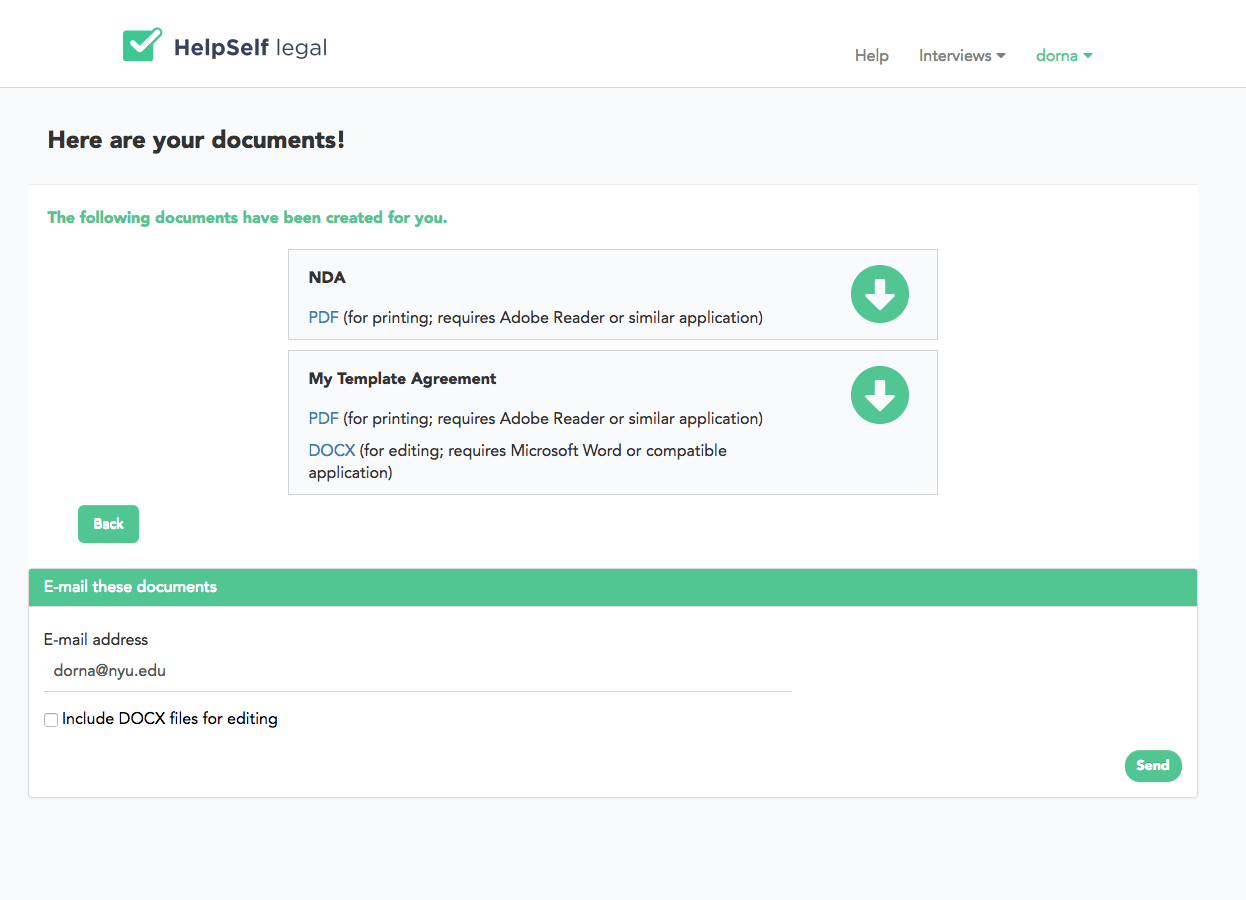 Ken: So your questionnaire allows your clients to include guidance to assist the user?
Dorna: Absolutely. When creating interviews, our clients can add "Help text" to their questions, which allow the end-user to hover over a question or word to obtain more detailed guidance on how to answer the question.
Ken: How is your product different from something like HotDocs or Contracts Express?
Dorna: Our product is easier to use, costs less, makes use of advanced technologies such as machine learning, and offers a simple interface. Our platform is intuitive. If you can use apps like Facebook and Google Docs, you'll be able to build an automation workflow on our site. No engineering skills or lengthy manuals are necessary.
We charge fees based on the number of users and the interview workflows the user creates. Everything is cloud-based, and we don't have any hidden fees. We're the solution for everyone from legal aid organizations to solo practitioners to AmLaw 100 firms.
Ken: But using your product and not, say, Contract Express must involve compromises. What would someone be giving up by using your product?
Dorna: For document automation, we don't think they're giving anything up, particularly given the comparative cost-effectiveness of our solution. Contract Express has some more complex features where a user can dictate the values of data – we'll be rolling out similar features in the next few months. Additionally, we see ourselves as a solution for auto-populating the initial document. If someone is looking for contract lifecycle management, we do not currently offer that.
Ken: How are you incorporating advanced technologies such as machine learning into your software?
Dorna: Document automation can do a lot today, but machine learning can speed up that process tenfold, particularly if the end customers know they have a problem but don't know what document they need. We are preparing our tool to be ready for that revolution. We are currently incorporating machine learning in the triage process for our apps, allowing users to type freeform text that is parsed through natural language processing. And we're working on other advanced features related to contract review and negotiation that we plan on rolling out in the coming year.
Ken: What services do you provide for lawyers who are pressed for time?
Dorna: If someone doesn't want to automate their documents on their own, we can work with them directly to create their automated platform. They can then use that platform to automate internal processes, or alternatively, to embed the interview on their own website for their clients to use.
Ken: What are you doing to safeguard confidential information?
Dorna: We take security and privacy very seriously. We use bank-level security, multiple layers of encryption, and have a security expert to check for vulnerabilities. Processing is done onsite in a cluster of containerized instances that scale to the client's needs and keep user information secure.
Ken: What do you think is the future for delivery of legal services?
Dorna: I see legal services becoming unbundled, streamlined, and centralized (at least intrastate), meaning that the legal community will come up with more efficient central standards to eliminate the patchwork of often unnecessary local rules. Streamlining basic tasks and creating a uniform set of rules will decrease costs and increase access to justice. Though that isn't within our control, we hope that widespread legal automation will be the first step in helping lawyers work more efficiently in the current system. And lawyers will be happier, because they'll be able to focus on higher-value tasks instead of spending time on what amounts to paralegal work.
Ken: What are your immediate and medium-term goals?
Dorna: Most immediately, we're spreading the word on our software. We just launched publicly two weeks ago, and we already have hundreds of attorneys and organizations using us across the world. Our most loyal salespeople have been our own clients. As we move forward, we are hoping to become the platform for many of the government sites you interact with today.
Features-wise, we're working on building out more complexity to the software, so that lawyers can control the data their clients enter more closely, empowering their clients to become part of the legal drafting process.
Ken: Where can people learn more about your product.
Dorna:  More information about our product can be found at our website, www.helpselflegal.com or by contacting us at accounts@helpselflegal.com. And you can watch this one-minute introductory video: