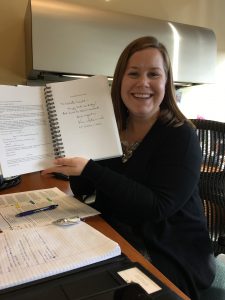 Last week I received an unusual request.
I heard from a colleague of Michelle Schuld, of The J.M. Smucker Company. I'll spare you and Michelle the full details, but the gist of it is that Michelle leads the business services team that oversees contracts for the entire company, and she's an enthusiastic fan. Her colleagues wanted to know if I could help them mark Michelle's birthday, so I of course dispatched a suitably inscribed copy of A Manual of Style for Contract Drafting. Here's the photo to prove that it made its way to Michelle. So again, happy birthday, Michelle!
I hear regularly from readers. I take it as both an honor and a responsibility that people find value in what I do. It prompts me to keep hacking away, and I'm working to make 2017 a particularly productive year.