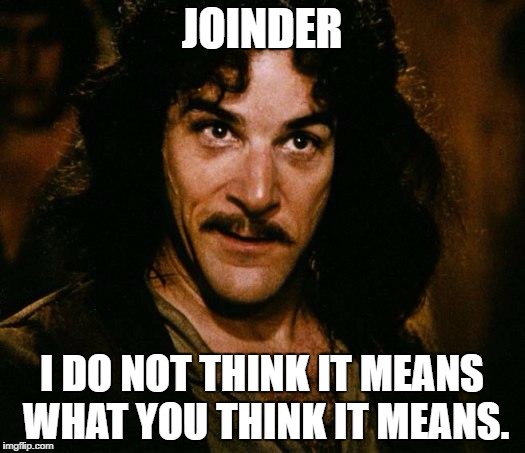 Behold the following extracts from the outhouse EDGAR, each using the word joinder:
… the Company shall cause each such Permitted Subsidiary to become party to the Guaranty by executing a joinder to the Guaranty reasonably satisfactory in form and substance to the Required Holders.

On November 11, 2016, the Board authorized this Agreement , contingent upon its execution and the execution by IDFC of a joinder to the Second Amended and Restated Stockholder Agreement …

… and the respective First Lien Representative shall have notified the Collateral Agent that such agreement or instrument shall constitute the Credit Agreement (or a portion thereof) and shall have executed and delivered to the Collateral Agent a joinder to the Collateral Agency and Intercreditor Agreement …

The Company shall cause each subsidiary of the Company to promptly become a party hereto (an "Additional Debtor"), by executing and delivering an Additional Debtor joinder substantially in the form of Annex A attached hereto …
So it appears that in bigger, more complex deals, joinder has come to mean "a document by which someone becomes party to an existing contract."
Excuse me for a moment. *throws up copiously* Ah, that's better.
Or you can say joinder agreement:
… shall be entitled to become a Holder hereunder by signing a joinder agreement hereto, agreeing to become subject to the terms of this Agreement.
Of course, this use of joinder bears no relation to dictionary definitions of joinder. The definition offered in Black's Law Dictionary is "The uniting of parties or claims in a single lawsuit."
Now, there's no reason not to coin a new meaning for a word if it serves a purpose. But with joinder, you risk losing sight of the fact that it's a kind of amendment. How about using instead joining amendment?