I'm delighted that on Tuesday, 8 November 2016, from 18:00 to 19:30, you will find me at the UCL Events Pavillion, Main Quad, Gower Street, London WC1. That's because I'll be taking part in a panel discussion hosted by UCL Faculty of Laws entitled Dysfunction in Contract Drafting: Are the Courts, Law Firms, and Company Law Departments Stuck in a Rut? It will be free of charge.
I'll be in town anyway for my 7 November "Drafting Clearer Contracts" seminar (information here), so I look forward to the opportunity discuss with an outstanding panel what works and doesn't work in English contract drafting.
Here's who will be on the panel:
The Honourable Mr Justice Flaux, a judge of the High Court of Justice of England and Wales.
Kate Gibbons, a senior banking lawyer at Clifford Chance and the firm's global knowledge partner.
Kristin McFetridge, a chief counsel for British Telecommunications plc who's currently in charge of a programme to redraft all their standard contacts.
Ken Adams, ne'er-do-well.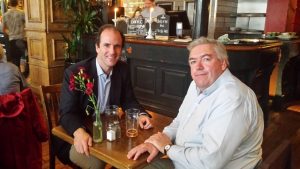 The moderator is none other than Mark Anderson, who is well know to readers of this blog. There we both are in the photo to the right; I'm plying Mark with drink to ensure that he sends only puff-ball questions my way.
Instead of the usual talking-head presentations, we'll have free-flowing discussion, including questions from the audience. I expect it will be a fascinating evening. And did I say it's free of charge?
Some come one, come all! Go here for more information and to register.