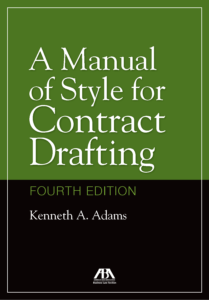 We've changed the binding for the fourth edition of A Manual of Style for Contract Drafting.
This might seem a trivial matter, but the binding was enough of an issue for me to ask readers about it in this 2008 post, and in 2014 I did this post about Amazon reviews objecting to the binding.
The slight first edition was a paperback. The second edition started out as a paperback and shifted to Wire-O binding. The third edition used Wire-O binding and a bigger format. The fourth edition is too big for Wire-O binding, so we're going hardback, baby! That way, the book will stay open when lying flat on a table, without the spine ultimately breaking. So we have the key feature offered by Wire-O binding, without the floppy, flimsy cover.
And not any old hardback binding—we're using casewrap binding. The cover artwork is incorporated into the binding, so there's no annoying dust jacket.