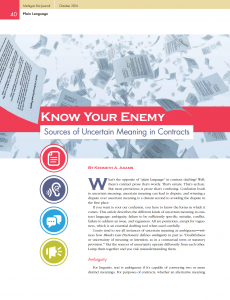 The Michigan Bar Journal has just published its "plain language" issue. It includes my article Know Your Enemy: Sources of Uncertain Meaning in Contracts. It's essentially an updated and expanded version of chapter 7 of A Manual of Style for Contract Drafting, and it offers an overview of ambiguity, vagueness, and the other sources of uncertain meaning. You can find it here. Check it out: I think it's seriously hawt.
My thanks to Rodney Huddleston for steering me away from some potholes.
To see the other pieces in the issue, go here.