I'm now cooling my heels in Copenhagen. I just came from Aarhus, Denmark. Let me tell you about that part of my trip.
Tuesday, May 26
I arrived in Aarhus after an overnight flight via Amsterdam and Copenhagen. I went there to give an in-house "Drafting Clearer Contracts" seminar for MHI Vestas Offshore Wind, a manufacturer of wind turbine generators. But more about that later.
I took a bus into town from Aarhus airport, through verdant and gently rolling farmland on a clear spring day, not a billboard or fast-food joint to be seen. Compared to what I'm used to, it was soothing.
I went straight to my accommodations. Wanting a change from the expense and soullessness of many hotels, I've been experimenting with Airbnb, with mostly good results, and that's what I used for my Aarhus accommodations. My host was Christian; you can see details of my room here. It was bright, clean, and … Scandinavian. The bed was very comfortable. And Christian was conscientious. So chalk this up as a win for Airbnb.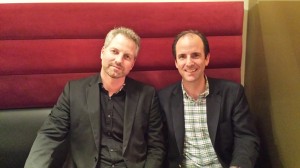 Soon after I arrived I met with René Franz Henschel, a professor in the Department of Law of Aarhus University's School of Business and Social Sciences. (My thanks to Tim Cummins of IACCM for introducing me to René.)
René graciously took me on a walk around the university and the center of town. We had dinner at Ferdinand, a restaurant that served delicious and imaginative (but unpretentious) food with local ingredients. Of course, everyone spoke impeccable English, whereas I hadn't bothered to make even the token gesture of learning how to say "hello" or "thank you" in Danish. The photo to the right was taken at Ferdinand. René is on the left. Ignore the leering goon next to him!
René is very knowledgeable about contract management and the interplay, for purposes of contracts, between civil-law and common-law systems. We happily spent several hours discussing our shared interests. You can expect René to make an appearance on this blog soon.
Wednesday, May 27
I had most of Wednesday to myself. Usually I can't work up much enthusiasm for sightseeing, but I happily spent several hours strolling around Aarhus.
The highlight was ARoS Aarhus Art Museum. My nekulturny credentials are well established, but I was drawn to ARoS by Your rainbow panorama, by Danish-Icelandic artist Olafur Eliasson. Here's how it's described on ARoS's website:
Your rainbow panorama is a permanent work of art consisting of a circular, 150-metre-long and three metre-wide circular walkway in glass in all the colours of the spectrum. Mounted on slender columns 3.5 metres above the roof and with a diameter of 52 metres, this spectacular creation extends from one edge to the other of the facade of the cubic museum building.
The photo to the right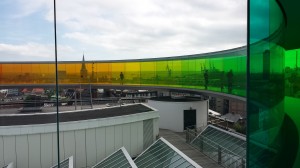 is my addition to the zillions of photos taken of the structure. Aros should build a shrine to Eliasson, as he's given ARoS the high-culture equivalent of a theme-park ride. I wouldn't be surprised if it has tripled their revenues.
And if that weren't enough, also on view at ARoS was Eliasson's Your atmospheric colour atlas. Remember that psychedelic dream in which you found yourself in a room filled with a fluorescent mist of shifting colors, and you could hardly see what's in front of your face? No? Whatever. That's what this was like. (See this YouTube video.) Dude is evidently the man for immersive color.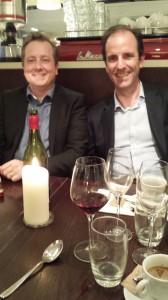 That evening I had dinner with Martin Clausen, general counsel of MHI Vestas Offshore Wind, and some of his collagues. (MHI Vestas Offshore Wind is a joint venture company established by the parent companies of Vestas Wind Systems A/S and Mitsubishi Heavy Industries Ltd.) It was because of Martin that I was in Aarhus.
I've known Martin for several years. I think we first became acquainted through my blog, and he was instrumental in my doing a hosted seminar at Maersk Line last year. Martin is very sympathetic to what I'm trying to do, but he's also practical, and a realist, so he's a helpful sounding board.
I'm with Martin in the photo to the right. It looks like we're about to launch into our sixth rendition of "Roll Out the Barrel," but I promise it wasn't like that …
Thursday, May 28
Thursday was devoted to my "Drafting Clearer Contracts" seminar at MHI Vestas Offshore Wind. It took place at Vestas's headquarters, in their presentation space. I wish I had had the wit to ask someone to take a photo, because it's the most impressive venue I've had the privilege of using: a cinema-size screen, raked seating for a few hundred, impeccable Scandinavian design.
And I hereby award Vestas's cafeteria the Adams on Contract Drafting grand prize for seminar catering, corporate division. I don't expect anyone will take that crown away from them anytime soon. Rhubarb and sea buckthorn juice, anyone?
As regards the seminar, I enjoyed myself, but I'll leave it to the MHI Vestas people to determine how it went. Like any performance, giving a seminar can vary from one seminar to the next, depending on the country, the makeup of the group, whether I'm jet-lagged, and a range of other factors. And in-house seminars are different from public seminars. If someone takes a day or two out of their life to attend a public seminar, the odds are that they have at least a sense of what I do and want to sample it. By contrast, when I do a seminar in-house, I go to a company and tell their contracts professionals, many of whom might know little or nothing about me, that much of what they do could be improved. Some participants might be inclined to ride me out of town on a rail.
But with respect to MHI Vestas Offshore Wind, the first bit of feedback bodes well:
great seminar on clear drafting with @KonciseD yesterday in Aarhus; highly recommended to anyone who negotiates and drafts contracts #FB

— Michał Kłaczyński (@klaczynski) May 29, 2014
After the seminar, I had an early night, as my flight to Copenhagen was due to leave alarmingly early the next day.
***
If you like this sort of thing, you can find my other "Notes from the Road" posts here.