So here I am, whiling away some hours in Dubai International Airport, waiting to catch a flight to Paris, where I will catch another flight home. (Yes, I'm missing Thanksgiving. Happy Turkey Day, y'all.)
Since my previous "Notes from the Road" post, I've been to Singapore, Kuala Lumpur, Abu Dhabi, and Dubai. During other trips I wrote about the first two of those stops (go here for my previous "Notes from the Road" posts), so I'll now focus on Abu Dhabi and Dubai. This was my first time to each of them.
Abu Dhabi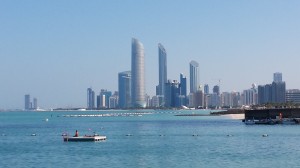 While in Abu Dhabi I passed my leisure hours uneventfully, mostly working on a new article, although I did make a couple of excursions for Lebanese food. My hotel has a beach club, where I did some of my work and where I took the photo to the right.
The focus of my time in Abu Dhabi was of course my seminar for Marcus Evans. Unlike the other seminars during my trip, this one was two days. It's harder work, but I think the extra time is beneficial for those who learned English as a foreign language and those who are new to my approach to contract language.
Those present were from Abu Dhabi, Dubai, and other countries in the area, including Saudi Arabia, Qatar, Bahrain, and Pakistan. But as is usually the case with my Marcus Evans seminars, some people came from further afield. One person came from Tanzania.
From some of the questions posed early on the first day, it was clear that a couple of people were worried what sort of anarchist was running the seminar. But those concerns quickly disappeared. Most of the group were quite vocal, which made it fun. At the end, a bunch of people took the time to tell me how worthwhile they found it.
In fact, even before the seminar, Marcus Evans had deemed it an "overwhelming success," so I'll be return in to Abu Dhabi in March 2014.
Dubai
I went to Dubai to give an in-house seminar to a substantial Dubai company. I would be there for all of 36 hours before leaving for home.
I took the bus from Abu Dhabi to Dubai, and then I found myself taking a Dubai Roads and Transport Authority (RTA) bus to my hotel. The RTA information people at the bus terminal were very considerate about making sure I knew where to get off. When I have a choice and have time to spare, I prefer public transportation over taxis. I feel slightly more connected with a city if I have to figure out my way around. (And I'm a cheap bastard.)
Dubai has for years been engaged in a spectacular construction boom, one that has kept busy 20% of the world's cranes. The eye-popping results are impossible to miss—dozens of gleaming towers in serried ranks. The financial crisis slowed things down, but I was told that things have picked back up. The fact that yesterday Dubai was chosen as the site for Expo 2020—a cause for much celebration—should give construction a further boost.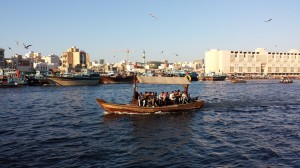 After arriving in Dubai yesterday, I spent the little free time I had at Dubai Museum, housed in Al Fahidi fort, part of which dates back to the eighteenth century. The early days of Dubai, as on display in dioramas, seems as remote from modern Dubai as the bronze age pots and daggers also on display. After the museum I had an early dinner nearby amid the marauding seagulls at Bayt al Wakeel, a restaurant on the saltwater Dubia Creek. I took the photo to the right while strolling to the restaurant.
I hope that my hosts for my in-house seminar found it useful. As usual, I included in my PowerPoint presentation examples from their templates; that helps make things more relevant.
My hosts were certainly very gracious. We ended up having to take an unscheduled break for an hour, to allow everyone to take part in the company's celebration of National Day in advance of the actual day, which is on Monday. And at the end of the day, they sent me on my way with a bunch of nifty company swag.
I'm determined to find reasons to return to Dubai when I'm back in the region in March.