What better way to take a break from the Seminarpocalypse® than to travel some more, this time to a conference?
Earlier this week I was in Chicago for Clio Cloud Conference 2016, which ran on Monday and Tuesday. Legal-conference travelogues generally don't make for compelling reading, but here goes anyway.
Speaking
I was at the conference because @JoshuaLenon had invited me to speak. Clio is a practice-management software that I knew next to nothing about, but because of the enthusiastic online chatter about last year's conference I readily accepted Joshua's offer.
I spoke on Tuesday afternoon. My topic was "Traditional Contract Drafting Is the Worst." (Yes, I know—I'm subtle.) Nothing I said would come as a surprise to regular readers of this blog. I gave a few short examples of the dysfunction that is traditional contract drafting. I then explained the effects of that dysfunction, what has caused it, and what we can do about it. I paid particular attention to obstacles that smaller law firms face in attempting to improve their templates and develop a better contract process.
I gave my talk to a modest but appreciative crowd. I like how Todd Janzen (@JanzenLaw) summed it up in the reflections-on-the-conference post he did with Brianna Schroeder (@SchroederIndy) (here): "Although his presentation was an outlier at the conference, his stepping outside of the mold seemed to fit right in."
I enjoyed the lurve peopled showed me online. Here are two screenshots from the Clio conference app: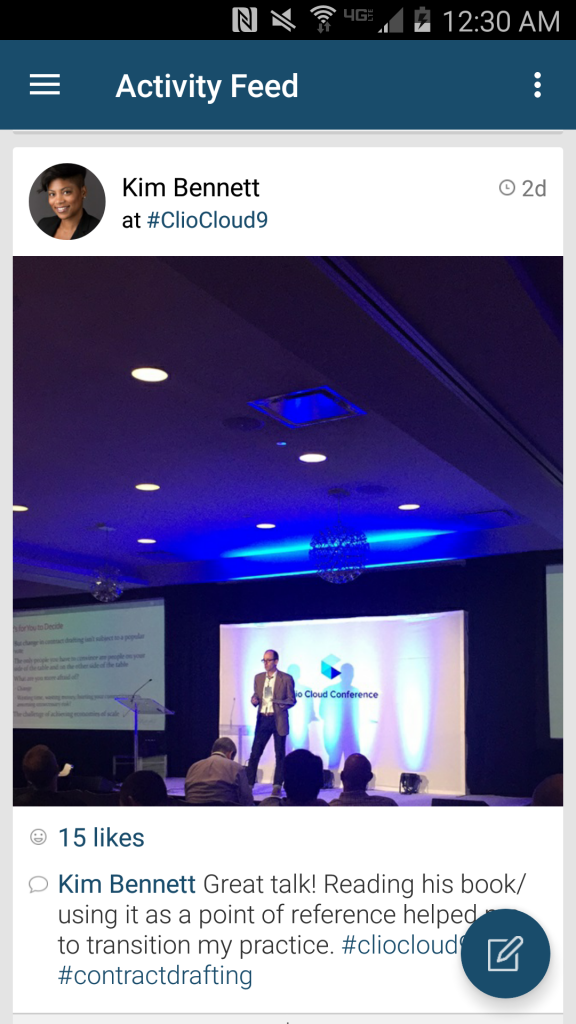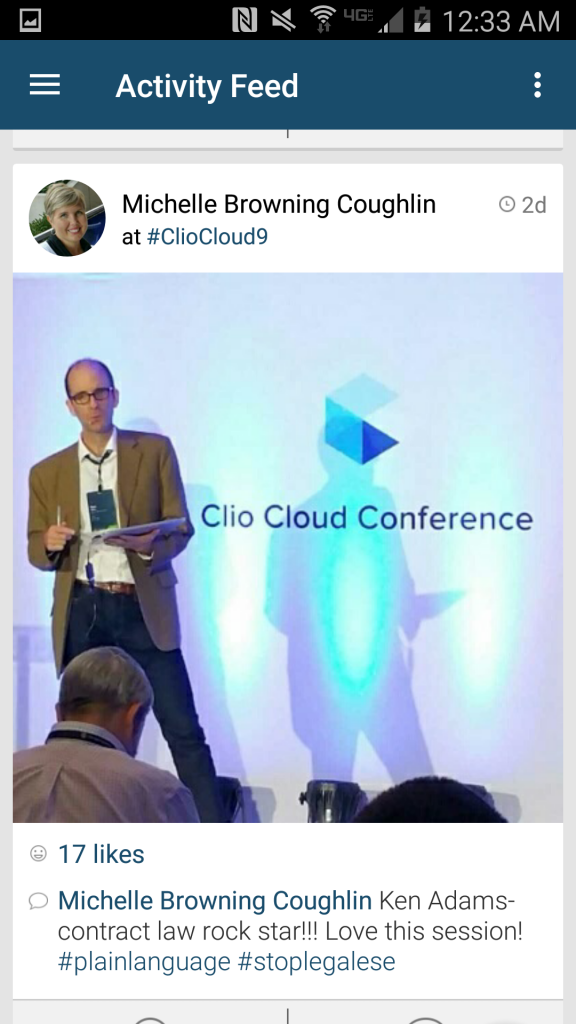 Thanks, Kim and Michelle!
Attending
Although it was my speaking gig that got me to the conference, I quickly realized that the conference as a whole had a lot to offer me.
In addition to sessions geared to the needs of the Clio users, there were sessions aimed at getting smaller law firms and solo practitioners to think about how they could be more competitive, and not only through using technology. I run a consulting and speaking business, not a law firm, but these sessions nevertheless got me thinking about my own circumstances.
For example, Anthony Marrone (@MarroneElderLaw) spoke about how if a business is to grow, the owner has to do less of the work. That resonated with me—I'm currently figuring out how best to bring on different people to help me in different ways.
I'm sure that for some at the conference, many of the presentations told them what they already knew. That's a challenge facing anyone putting on a conference—at what level do you pitch your offerings? My sophistication has largely been limited to my speaking, writing, and consulting on contract drafting. The business side of things? Not so much. So I wasn't about to complain about sessions being too basic.
A case in point: although much of what hustler Gary Vaynerchuk had to say in his Tuesday keynote talk didn't come as news to me—I've been aware for ten years that, as Gary says, I'm my own media company—it probably resonated with many in the room. And he made me realize that I could be doing more than waiting for people to discover me through my writings.
The conference sessions also confirmed for me that after ten years of winging it, I now have to put proper systems in place. As a first step, I'm about to become a Clio customer.
Networking
I'm comfortable keeping my own company. (Actually, according to my wisenheimer daughter I'm a misanthropic hermit.) And the law-and-technology and small-law crowds aren't my usual constituency. So the networking part of the conference might have been underwhelming.
But it worked out just fine, for two reasons. First, Clio knows how to put on an engaging conference. And second, those in attendance were certainly engaged, both in person and online. So I met a good number of people and enjoyed reconnecting with others.
Next Year
On the last day I found myself taking the novel step of buying tickets to next year's conference, at a bargain price. For a limited time, you can too, by going here.
I plan on spending the coming year putting into effect ideas prompted by this year's conference. At next year's conference I'll consider how far I've come and how far I have yet to go.