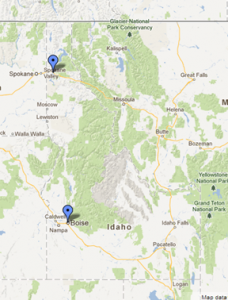 Greetings from Boise!
I've spent most of the week in Idaho at the request of the Idaho State Bar. The first stop was Coeur d'Alene (the northern blue marker in the map to the left). I arrived there on Tuesday, after flying to Spokane, Washington, the renting a car and driving half an hour. That's what passes for adventure in my world.
On Wednesday, I gave a "Drafting Clearer Contracts" seminar to group of forty or so.
On Thursday, I headed to Boise. Brent Wilson, chair of the Business and Corporate Law Section of the Idaho State Bar, picked me up at the airport and whisked me to their "presenters' dinner."
And today, at their sold-out CLE session, with 122 souls in attendance, I did a "Drafting Clearer Contracts" session and a short session on "The Structure of M&A Contracts," interspersed with sessions by others.
Tomorrow I head home at the crack of dawn.
So what am I left with?
I'm reminded that I'm fortunate to be doing what I'm doing. I'm a pointy-headed guy who obsesses about nuances in contract language. That's not a very promising basis for socializing—you might expect me to be hunched over a computer, unshaven and in a bathrobe. Instead, I'm traveling all around, exploring my topic with people who give every sign of being happy to hear what I have to say. Numerous times today people stopped me to say how pleased they are to meet me and how valuable they've found my work as they fight to make contracts more coherent.
And I'm reminded how I learn so much from getting out and engaging with people. I'll be heading home with some interesting issues to address in blog posts. And a Coeur d'Alene participant just emailed me a recent opinion of the Idaho Supreme Court that happens to be directly relevant to an article that I'm writing.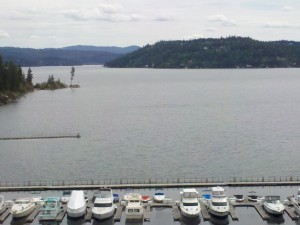 But I'm also left thinking that the more I travel, the more it seems that any one destination resembles previous stops on my wanderings.
Sure, Idaho has a distinctive topography. I couldn't miss Lake Coeur d'Alene—to the left is the view out my hotel window. And no one would mistake Boise for Chicago, or Boston, or Dallas, or any of my other recent destinations.
But the issues, in terms of contract language and process, that those attending my Idaho seminars wrestle with closely resemble the issues facing their counterparts in New York. In Copenhagen. In Singapore.
So sure, the incidentals can be plenty exotic. The views. The food. The street life. But when it comes to what really matters—engaging with those who work with contracts—the exotic gives way to the familiar. Some might find that depressing. Me, I find it reassuring.
Finally, yesterday and today I got to spend time with Brent and his colleagues at the Idaho State Bar. They're a committed, efficient, and hospitable bunch—I've been very impressed by what I've seen of the Idaho State Bar and I'm grateful for how they've handled every aspect of my visit.