My seminar trips aren't like vacation. They're not for sightseeing—if I'm not careful, a trip can consist of various forms of transportation, time in a hotel, time in a meeting room, various forms of transportation taking me home, and not a whole lot else. And usually I don't linger—I'm not big on solo tourism, and my wife Joanne has a day job, so usually she isn't able to drop everything and join me.
On the other hand, my seminar trips aren't like travelling for work. Instead, I'm putting on a show, albeit a highly nerdy one. And I get the chance to engage with seminar participants and, in the case of an in-house seminar, my host.
Which brings me to last week's trip to Oman, 11 years after my previous visit.
During my 2008 visit I gave a "Drafting Clearer Contracts" seminar to around eight people at the Ministry of Legal Affairs, under the auspices of the Rule of Law Initiative of the American Bar Association. The purpose of last week's trip started out as another in-house seminar for the Ministry of Legal Affairs, spread over two days, but it was opened to the public, thanks to sponsorship by the law firm Al Khalili, Al Ghailani & Co. LLP.
Around 120 people attended the seminar. I guesstimate that 60% were men, 40% were women. With the men dressed in a white dishdasha and printed massar (turban) and the women wearing an abaya (a black dress or cloak worn over the clothes) and hijab (the typical Muslim hair covering), yours truly cut a mildly conspicuous figure in my otherwise nondescript grey flannel suit. The Minister of Legal Affairs, Abdulla bin Mohammed bin Said Al Saeedi, and the Undersecretary of the Ministry of Legal Affairs, Yahya bin Nasser bin Mansoor Al Khusaibi, attended the first part of the seminar.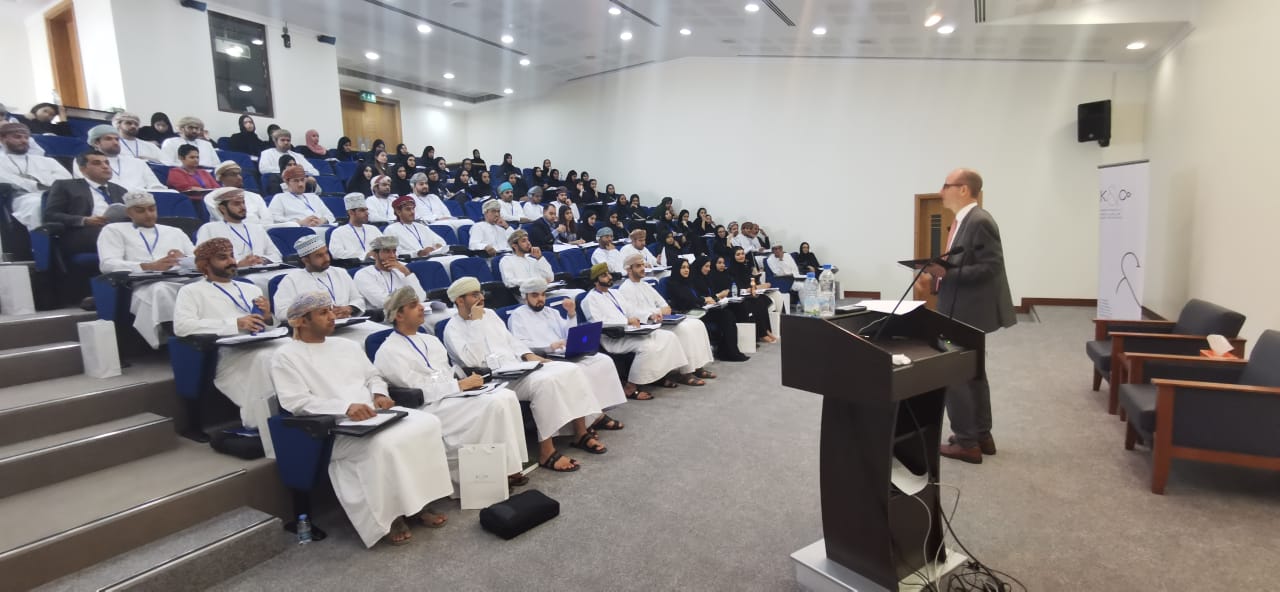 By all accounts, the seminar went well. People hung around after to chat, take photos, and have me sign their copy of A Manual of Style for Contract Drafting. And it prompted a small flurry of posts on LinkedIn and tweets such as this one:
Starting the contract drafting workshop with @KonciseD at @molaOman 🙏🏼⚖️ pic.twitter.com/nbbz2q8c1J

— خُلود مَحمُود, (@khulood_alkd) September 2, 2019
It even made the local news:
One message I hope participants left with is that if they're reasonably diligent in reading my book, they shouldn't feel intimidated by lawyers from international law firms and global companies in determining how best to say in a contract whatever you want to say.
What about the rest of my trip? My host and the driving force behind the seminar was the urbane and resourceful Riyadh Al-Balushi of the Ministry of Legal Affairs. He drove me around Muscat, took me on a tour of the old part of town, and joined me for dinners. After the first day of the seminar we were invited to dinner by the four partners in the law firm sponsoring the seminar—Mohammed Al Khalili, Maadh Al Ghailan, Nasser Al Riyami, and Sultan Al Ghafri. They took us and one of Riyadh's colleagues, Talal Al-Saidi, to Rozna, a restaurant in a replica of one of the old forts that dot the landscape. The food and good company made for an enjoyable evening, with conversation about Omani history, modern Oman, and what we have going on in our own lives.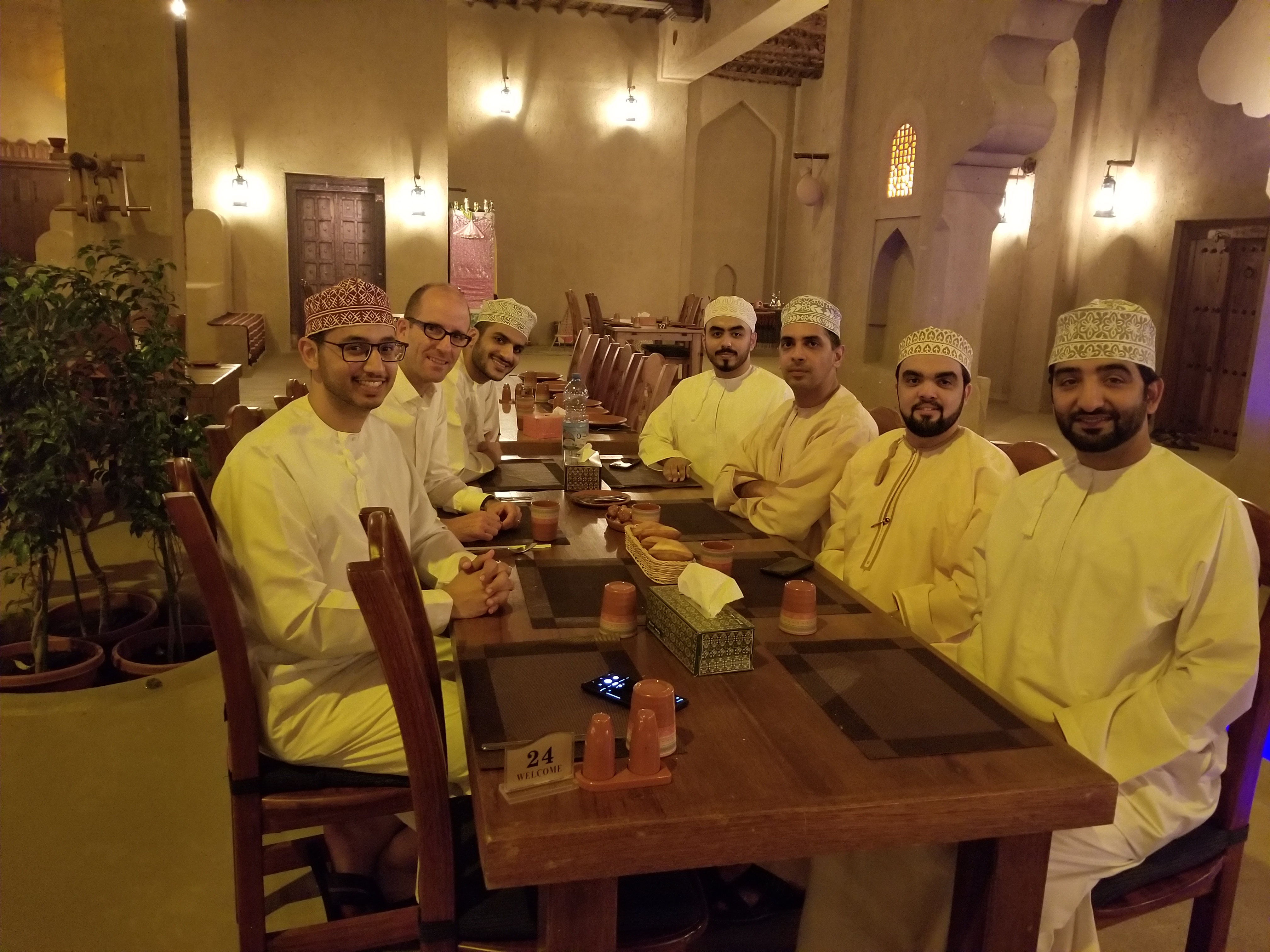 A gastronomic discovery of the evening was khubz ragag (a thin crepe-like bread) spread with a layer of egg and a sprinkling of crushed Omani potato chips, then folded in half twice and eaten by hand. It's as easy to eat as the English chip butty, and about as nutritious!
When visiting anywhere new, whether it's Cincinnati or Tokyo, it's unhelpful to consider a culture apart from its people, for example by being shuttled around with a group of tourists. On my most meaningful trips, I get a brief insight into both. That was certainly the case on this visit to Muscat. My thanks to the Ministry of Legal Affairs, Riyadh Al-Balushi, and the partners of Al Khalili, Al Ghailani & Co. LLP for their hospitality.
I might well return before another 11 years pass. Riyadh and I joked that seeing as the number of seminar participants increased from eight in 2008 to around 120 this time, on my next visit I can expect a thousand or more. I wish!
(Go here for all my "Notes from the Road" posts.)