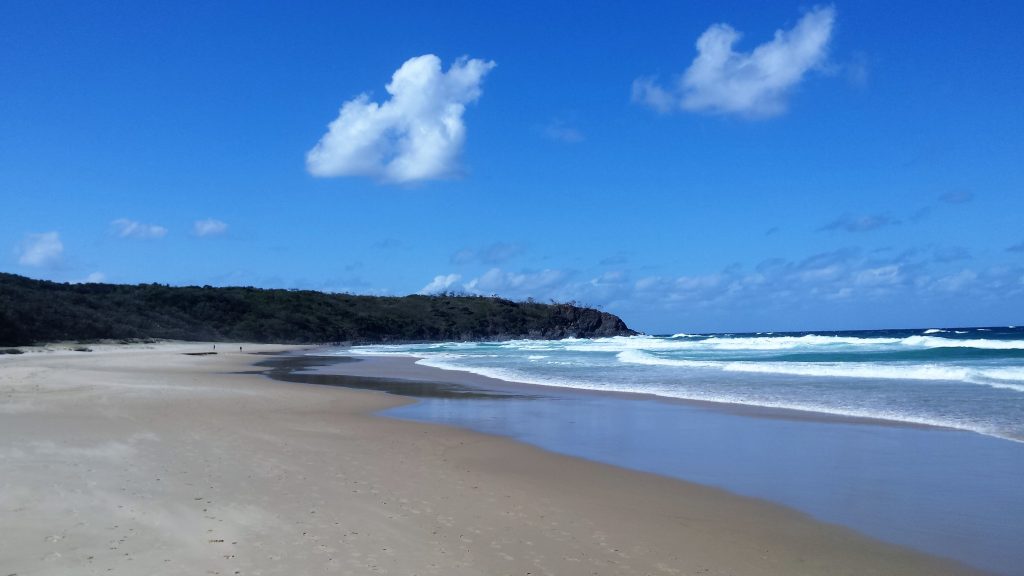 My "Notes from the Road" posts aren't intended as simple travelogue; that might be annoying. Instead, I try to tie each post to my contract-drafting-guy activities. It might be tough to pull that off when the destination was the Australian resort town of Noosa, but here goes.
After seminars in Sydney and Melbourne, this past weekend I headed to Noosa, because that's where Rodney Huddleston lives.
Rodney is co-author of the linguistics bible The Cambridge Grammar of the English Language, and he was a longtime lecturer at the University of Queensland. He retired in 1997, but he keeps his hand in, which is how in 2012 I was introduced to Rodney by Geoff Pullum, another linguistics luminary.
Why fraternize with linguists? Here's how I think of it: Linguists obviously do grammar—the title of Rodney's book is enough to tell you that. But to keep me out of trouble, I've come up with my own working distinction between grammar and linguistics. "Grammar" is what judges and lawyers are quick to invoke in contract disputes. In doing so they tend to rely on their own instincts and limited research, so they routinely screw up. By instead thinking of it all as "linguistics," I remind myself that things get complicated quickly and that if I aim to offer guidance in this area, I should consult experts.
Rodney ultimately helped me enormously with MSCD chapter 11 (Ambiguity of the Part Versus the Whole). That chapter addresses ambiguity associated with plural nouns and and, or, each, any, and all. It's an intricate topic; without Rodney's help I would have been sunk. As it is, to my mind that chapter is the most thorough analysis of the topic in any literature.
Since then, Rodney has responded to my occasional cries for help. Most recently, he helped me avoid some potholes as I was writing my article on sources of uncertain meaning in contracts (copy here).
Once someone helps me out enough, it seems appropriate that I try to get to know them in person, instead of only through email. This year I had a few days free after my Melbourne seminar, so off to Noosa I went. It was a memorable visit: Rodney and his wife, Vivienne, were extraordinarily hospitable, and Noosa and the surrounding countryside are scenic and distinctive.
It would be indiscreet of me to drone on at length, and it would be boring for you if I were to do so, but here are a few highlights:
Beach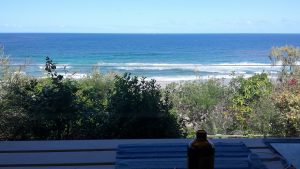 Rodney and Vivienne live in a home perched above Sunshine Beach. It's the most glorious beach I've had the pleasure to visit. The beachfront development is restrained. The sand is perfect. The water is a tropical blue-green. The water temperature was ideal. And it was far from crowded, particularly early in the morning. In addition to swimming and running on the beach, I enjoyed simply watching the waves from Rodney and Vivienne's house, while also being on the lookout for the dolphins and humpback whales farther from shore. The photo the right shows the view from lunch one day.
Park
Rodney and Vivienne's house is next to Noosa National Park. It's a fragment of what was originally an extensive coastal ecosystem. It's full of distinctive plants, and the setting is striking.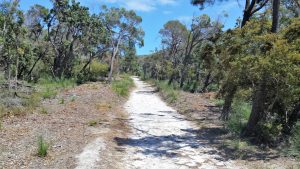 In my three days there, I was able to see much of the park. That's largely because when it comes to walking, Rodney's indefatigable; he's done days-long hikes in different parts of the world, and he walks the park every day. No heroics were required in walking around Noosa Park, but we covered a lot of ground on paths such as that in the photo to the right. The park also has beaches, including Alexandria Bay, in the photo at the top of this post.
Countryside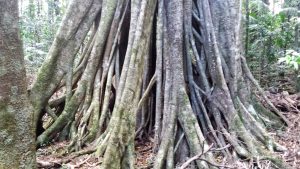 My second day at Noosa, we drove around the beautiful countryside inland from Noosa, more specifically the Blackall Range. We stopped at Mary Cairncross Scenic Reserve, a remaining bit of rainforest, where we had lunch with Rodney's daughter and son-in-law and their two boys. The forest featured a wealth of noteworthy trees, including the strangler fig to the right. And we saw the featured attraction, pademelons—a kind of small kangaroo.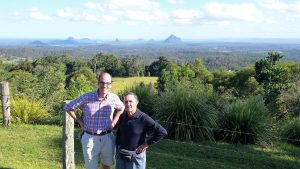 That's Rodney and me in the photo to the right, which was taken at the reserve. In the background are the Glass House Mountains, including Mount Beerwah at the right. The plan had originally been for us to climb Mount Beewah; I expect that would have involved plenty of huffing and puffing on my part.
***
It was a quick visit. And the road goes on forever, so I'm now in Lake Forest, California, with Toronto to follow. But I'm gratified that I now have a better sense of someone who has contributed meaningfully to my work. And perhaps I'll have the opportunity to show Noosa to my wife and daughter.