Last week I was in Zurich. I was there to do an in-house "Drafting Clearer Contracts" seminar on Tuesday for ABB, the global engineering company, followed by public seminars on Wednesday and Thursday.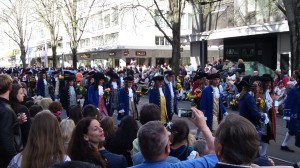 But I arrived on Monday, in time for the Sechseläuten, Zurich's spring festival. I was staying in Oerlikon, where ABB's offices are, but on Monday afternoon I took the train into the center of Zurich. I spent a couple of hours watching the parade of the Zünfte (guilds), involving costumes, horses, camels, floats, brass bands, and a cast of thousands. I'm familiar with Geneva's Fête de l'Escalade, so I'm aware that the Swiss know how to put on a parade, but I didn't expect it to be on such a scale.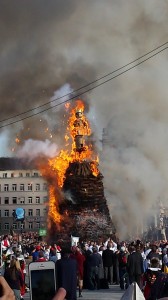 I made my way to Sechseläutenplatz, site of the burning of the Böögg. A substantial pyre had been erected. It was composed of tied bundles of sticks, the word for which is faggots, causing me to note wistfully that it's exceedingly rare that one gets to use that word, given the disparaging alternative meaning. Böögg is a cognate of boogieman, but it has morphed into a decidedly nonthreatening snowman. It took about twenty minutes for the flames to make it to the charge packed in the Böögg's head, causing it to explode. Popular tradition has it that the time it takes for the Böögg's head to explode indicates what the coming summer will be like, just as Punxsutawney Phil does for the remaining days of winter. I'm sure they're about equally accurate.
After a very agreeable lakeside dinner with Hans-Peter Duerr, who coordinated my visit to ABB, I headed back to my lodgings. I used Airbnb, so I had a room in an apartment a three-minute walk from ABB's offices. As I expected, it worked out very well. I use Airbnb sporadically, but only outside of the United States. The U.S. has too many good, inexpensive hotels and too many freaks—of my three Airbnb experiences in the U.S., two were disasters.
The seminars went very well. For one thing, Ruth Leuenberger and her colleagues at ABB looked after everything. They were meticulous, unflappable, gracious, and a lot of fun. And the food they arranged! One of the days, steak tartare was among the offerings for lunch. Steak tartare!
The participants, whether they were from ABB or attending one of the public seminars, were enthusiastic. I haven't yet solicited feedback, but I've already received one unsolicited assessment: "My view of contracts will be completely different now."
I've had occasion recently to recall the stress I experienced as an associate at law firms many years ago. For example, the feeling of waking up in the night and remembering that I had forgotten to address a particular issue in a new draft. Now I don't have any of that. It's been replaced by a sense of responsibility—the sense that, when it comes to seminars, people have taken a day out of their lives and paid a decent amount of money to learn something from me, and it's up to me to make it worth their while.
It's now time to start thinking about next year's seminars in Europe. I expect that I'll continue my current system and will look for a company willing to act as host in exchange for various enticing benefits. My hosts in previous years were SAP, ECE (the Hamburg-based shopping-center developer), and Maersk Line.
So, dear reader, perhaps I'll see you in Europe next year.