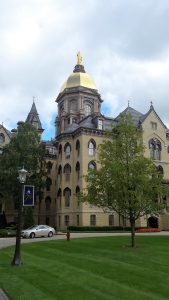 So here I am in South Bend, Indiana, teaching for the third time an "intensive" course in contract drafting at Notre Dame Law School, the aim being to fit a semester-long course into three weeks.
Why am I here? Well, because the law school asked me. And given my peripatetic ways, parachuting in to South Bend for a brief stay makes more sense currently than my committing to show up somewhere once a week for 14 weeks.
But beyond that, what's the attraction? After all, this semester I have 13 students. It's not like I'm sending out into the world massed ranks of law students filled with zeal for rational contract drafting.
The benefit is a basic one: teaching a law-school course keeps me on my toes. When I bounce ideas off of students, every so often they bounce one back that I hadn't thought of. (This post from a few days ago is evidence of that.) And teaching gives me an opportunity to try out new materials. For example, there's no better way to become familiar with the verb structures in a contract than to use it for an assignment. I can now use that contract in seminars with confidence.
When not teaching or lurking in the handsome law school, I'm in my functional but somewhat dreary hotel room, grading, doing consulting work, and preparing for the looming seminarpocalypse. This week's entertainment was bingewatching season two of Broadchurch on Netflix.
My room has a cooktop and fridge, so the first ten days, I prepared my own dinners. That inspired the following tweet:
Imagining the most depressing cookbook title ever: "Cooking for One in Your Hotel Room" *sobs quietly*

— Ken Adams (@AdamsDrafting) August 21, 2016
I did all right for myself, though, largely thanks to the South Bend Farmers Market. One evening it was a salad of quinoa, beets, scallions, and parsley, with olive oil and red-wine vinegar. Ah, the glamour: boiling beets in a hotel room.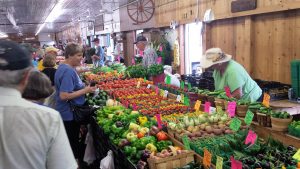 As my departure approaches, I've grown lazy. Tonight I returned to J.W. Chen's, a Chinese restaurant near campus. I'm not an informed consumer of Chinese-restaurant food, but I heartily approve of J.W. Chen's and the particularly solicitous proprietor.
I also go for runs around the lakes on Notre Dame's campus. What with my runs and walking to and from the law school, I get a decent workout during my stays in South Bend. In fact, last year's stay jump-started my current regimen, which has resulted in my losing 25 pounds over the past year.
I leave South Bend on Tuesday, a few days early, because I had previously committed to doing a seminar in Seoul on 2 September. I'll be teaching my final class at 2:00 a.m. from a hotel room in Seoul, via webcam. As I said, ah, the glamour.