[Updated 3 February 2017]
On 30 January I rolled out in this post a new version of the introductory part of my severability language. That prompted me to look at the rest of it, and I realized that it didn't work. For example, "then that provision will be modified"? Passive voice? Who's the actor? And what category of contract language is that? So back to the drawing board.
That in turn prompted a comment from a reader to the effect that the introductory part was bizarre: "it would be consistent with the wishes of the parties"? WTF! It sounds like something said at the reading of a will.
So here's the whole thing again: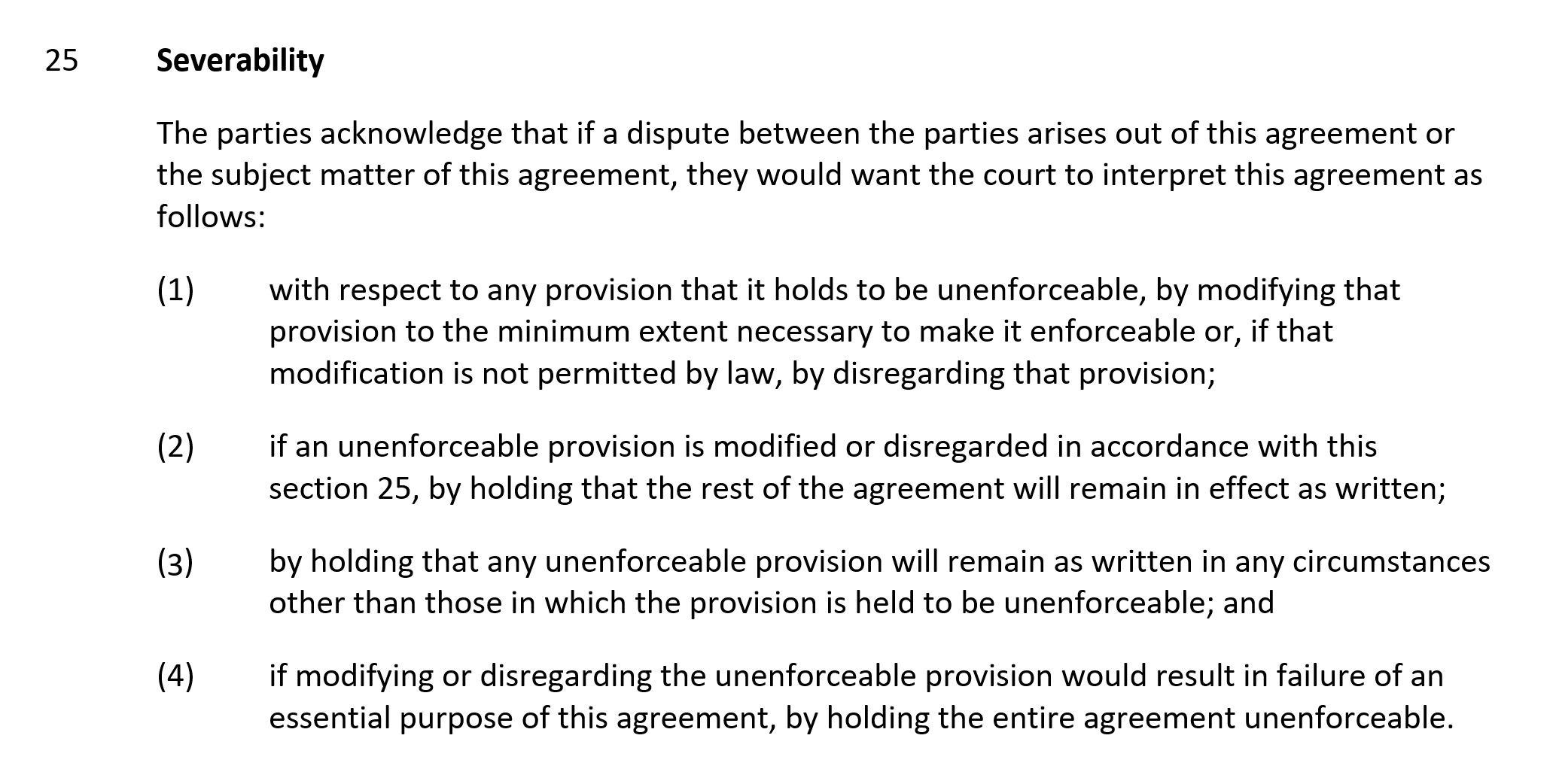 I can't promise it won't change, but we're making progress.
If the parties agree that part of the contract expresses an essential purpose of the agreement, they should say so. I suggest you'd to that in a separate subsection, making the stuff above the first subsection.
***
[Original 30 January 2017 Post]
In this 2012 post I introduced you to my severability provision. I've made some adjustments to the enumerated clauses, but what I want to consider now is the introductory phrase. Here's what it is in the 2012 version:
The parties intend as follows:
And here's what it is in something I produced yesterday:
The parties acknowledge that if a dispute between the parties arises out of this agreement or the subject matter of this agreement, it would be consistent with the wishes of the parties for a court to interpret this agreement as follows:
This change was prompted by two things.
First, intend makes sense only with respect to that which you control.
And second, I recently completed a manuscript on the ways in which contracts attempt to preempt judicial discretion. That's relevant for purposes of a severability provision, so I wanted to take a crack at expressing exactly what the dynamic is.
This is a work in progress. What do you think?