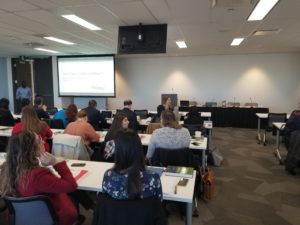 This is where I'll be doing public "Drafting Clearer Contracts" seminars in the United States in 2020:
Chicago, March 12, 2020
Boston, May 7, 2020
New York, September 24, 2020
San Francisco, Dec 3, 2020
I'll put registration information up once it's available.
Four locations is the fewest since, well, forever. I'm disappointed that Texas is again missing, and Seattle has dropped off the list. This reflects two realities.
First, Thomson Reuters has gamely sent me to a bunch of smaller cities over the years, but that hasn't paid off. My seminars aren't high-volume, but if I don't consistently get more than 20 people in a given city, it doesn't make economic sense to keep going to that city.
And second, I'm now in the let's-build-stuff stage of my career. An insane amount of travel isn't conducive to being a dependable part of a production process: "I'll do it on the plane" might work for others, but it doesn't work enough for me. So after years of reflexively saying "Yes!" to the question "Do you want to do a seminar in X?," I've learned to say "No."
This means some of you will have to travel instead of having me show up in your hometown. But I hope to see you in 2020 regardless.
By the way, the seminars business is an unforgiving one: if the customers aren't satisfied, you don't last long. It's no accident that I've done hundreds of "Drafting Clearer Contracts" seminars: A Manual of Style for Contract Drafting and I are the only game in town, and it's a fun seminar for both me and participants. Here's some representative feedback from two recent U.S. public seminars:
The program was highly recommended by X and I now understand her enthusiasm. I have attended quite a few seminars and yesterday was the most worthwhile and the best return on investment.

Ken's a fabulous presenter. He's capable and quick-witted, and a joy to learn from. I heard rave reviews from colleagues, and it's all true.