I just wrapped up my 2012 series of Geneva seminars. Some impressions: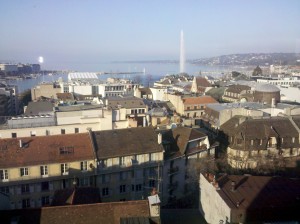 I'd be hard pressed to find a more congenial arrangement. I'm staying in Vieille Ville, the old part of Geneva, with my brother Charles and his family. (To the right is part of the view from Charles's apartment.)
To get to Akin Gump's offices, where the seminars were held, I strolled along cobblestone streets, down passage de Degrès-de-Poules, and into place du Bourg-de-Four, then I went past the Musées d'art et d'histoire and turned down rue François-Bellot. It made for a very agreeable way to start the day.
And adding to the general Gemütlichkeit is the fact that my wife and I lived in Geneva for three years in the 1990s, and our daughter was born here.
The seminars were particularly intime—we used Akin Gump's conference room, which holds up to nine, plus me. As a result, there was lots of opportunity for discussion. I expect to air in future posts some of the issues we discussed.
This time around, all the participants were from companies. Some participants were based in the Geneva area; others were from elsewhere in Switzerland; and some came from outside Switzerland—from Poland, the U.K., the Netherlands, and elsewhere. Those participating in today's seminar were indulgent enough to pose for the photo on the right.
The absence of anyone from Geneva law firms comes as no surprise. After all, law-firm lawyers are underrepresented in my U.S. seminars. You'd have thought that the fact that they're drafting in a language other than their native language would make Swiss law-firm lawyers more willing to question the status quo. On the other hand, they might well have thought me a bumptious American. Tant pis.
Some thank-yous are in order. ACC Europe helped spread the word by telling their members about the seminars. For that, I owe particular thanks to Switzerland representative Caroline Ming of SGS S.A. If you're in-house counsel based in Europe and you're interested in networking and keeping abreast of developments, I recommend that you check out what ACC Europe has to offer.
And as usual, Akin Gump's Geneva office provided impeccable support. If you need the best expertise in international arbitration, check out this guy.