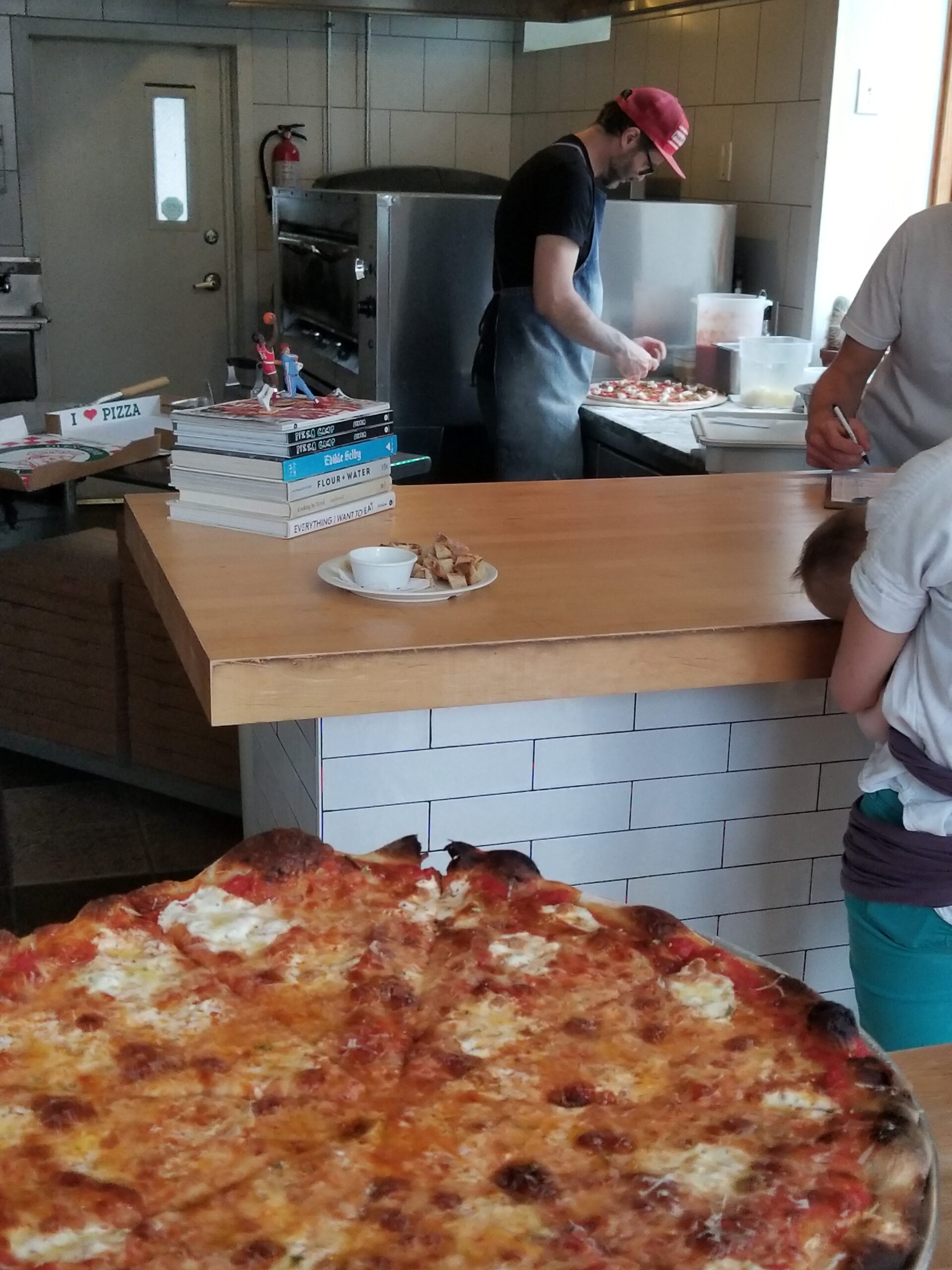 In calling this post The Myth of the Lone Pizza Genius, I'm not suggesting that such a myth is widely held. Instead, it's just a notion that casually lodged itself in my mind.
In addition to baking pizza, I've had the opportunity to visit three noted pizza joints.
In 2017, I dropped by Anthony Mangieri's restaurant Una Pizza Napolitana, when it was in San Francisco. (He subsequently returned to the East Coast.) I went there after giving a presentation, shortly after the restaurant opened for the day. I was the first customer, so I took the opportunity to chat briefly with Mangieri. He had acquired a reputation as an impossible perfectionist. (He still has that reputation; see this 2022 article in New York Magazine by Adam Platt.) I had only just started to take pizza seriously, so I knew next to nothing, but I made a mental note that being a lone maniac was evidently the way to go if you wished to master pizza.
Later that year I visited Pizzeria Beddia, in the Fishtown neighborhood of Philadelphia. In 2015 Bon Appetit had anointed it "the best pizzeria in America." I got wind that change was afoot, so I decided that a visit was in order. I think I ended up going the day before a presentation in Philadelphia. The setup was basic, with Beddia and a helper creating 40 pies a day that patrons either consumed in the no-frills premises—standing only—or took with them. I showed up two hours before they opened and joined what became a long queue, placed my order, went to a coffee shop down the street to kill another couple of hours, then returned at the appointed time. In the photo at the top, Beddia is in the background and my pie is in the foreground. Again, the implication was that if you wanted to rise to the top of the pizza world, be a control freak.
A couple of years ago I visited the new Pizzaria Beddia. I was on my way back, by car, from giving a presentation in Lancaster, Pennsylvania, so I arranged to meet a friend at the restaurant. It was a regular pizzeria, and instead of acting as sole pizzaiolo, a cleaned-up Beddia was more of a low-key maitre d'. Inevitably, the experience wasn't as memorable as my previous pilgrimage. In particular, the pizza was nothing special (although that might have been a trick of my expectations). So dilute the intensity, lose the pizza magic. Duly noted.
But my first visit to a pizzeria run by a pizza ascetic was actually when in 2008 I visited Pizzeria Bianco, in Phoenix. In the 2000s, Bianco had his turn in the spotlight as American's best pizza maker. His claim to fame was that he was the first to bring to pizza, with imaginative flair, the best of local produce. I was in Phoenix for—you guessed it—a presentation; I had given the client a discount so I would be sure to get the gig and get my fix of Bianco's pizza.
Bianco himself wasn't at the restaurant when I was there, and honestly, my visit wasn't particularly memorable. But I thought of it last night when I watched an episode of the Netflix series Chef's Table: Pizza, or more specifically, the episode devoted to Chris Bianco.
In his initial incarnation, he was indeed a driven control freak in the Mangieri mold. But health concerns forced him to step back from the pizza oven, so he became more a restauranteur—he acted as a mentor to others, so they could take over tasks that he had previously insisted on doing himself. That allowed him to expand his business while leaving him time for his family. (See this 2015 article by Bill Addison in Eater for some background.)
So here's where all this leaves me: My notion of the lone pizza genius was misguided. First, what allowed Mangieri, Beddia, and Bianco to succeed was hard work. The intensity that each brought to bear wasn't some quirk of personality. Instead, it's what's required if you're to hone your craft and stand out in a crowded marketplace. And that applies to every field of endeavor, not just pizza. If you'll permit the analogy, I'm prone to joking that I've spent 20 years in a cave working on my guidelines for clear and concise contract language. But that's what the task required. And it doesn't reflect a quirk of my personality, unless scholarship is a quirk of personality.
Furthermore, the "lone" part isn't preordained. When you start down any path, the odds are it's just you. But circumstances might require, or permit, that you go beyond that, and you might or might not be able to make the necessary pivot. Chris Bianco offers an example of someone who made the transition and thrived. Again, if you'll permit the comparison, I hope that as I continue to build on the foundation I've created, I'll convincingly move beyond my gadfly scholarship.