It's been a while since I've had occasion to write about layout. Here are two issues relating to enumeration in articles. Be still my beating heart.
Article Zero?
First, last week I gave an in-house seminar at the Beijing unit of an international consortium. As usual, my PowerPoint seminar contained examples drawn from the host's template contracts, but at the start of the seminar someone emailed me another of the host's templates, and late that morning I opened it, put it on the screen, and discussed with the participants the usages on display. One of the participants pointed out that the definition section, which was at the beginning of the body of the contract (sigh), was designated article zero. Article zero! I can't think of a good reason for doing that, but somehow it seems badass.
But apparently, article zero is a thing. At least, it exists on the SEC's EDGAR system. Most instances appear to be due to glitchy automatic cross-referencing. But here's one real example:
Article 0 General Principles of Agreement

WEG intends to work with NPS in order to produce and market a 3.3 MW wind turbine on the terms and conditions of this Agreement.
Here's a second:
ARTICLE 0. AMENDMENT AND RESTATEMENT

CMCC and Licensee hereby agree that, as of the Effective Date, the Original Agreement is hereby amended and restated in its entirety as set forth in this Agreement, and the Original Agreement shall be of no further force or effect from and after the Effective Date, provided that …
And here's a third, one that matches the example I saw in Beijing:
ARTICLE 0. DEFINITIONS

0.1 Definitions.

For purposes hereof, the following terms shall have the following meanings, all from time to time:
When You Have Only One Paragraph in an Article
And second, on page five of this 2014 post on Lawyerist by Barron Henley entitled "Five Microsoft Word Rules You Must Follow," he offers the following as one of the "big rules" of outline paragraph numbering and formatting: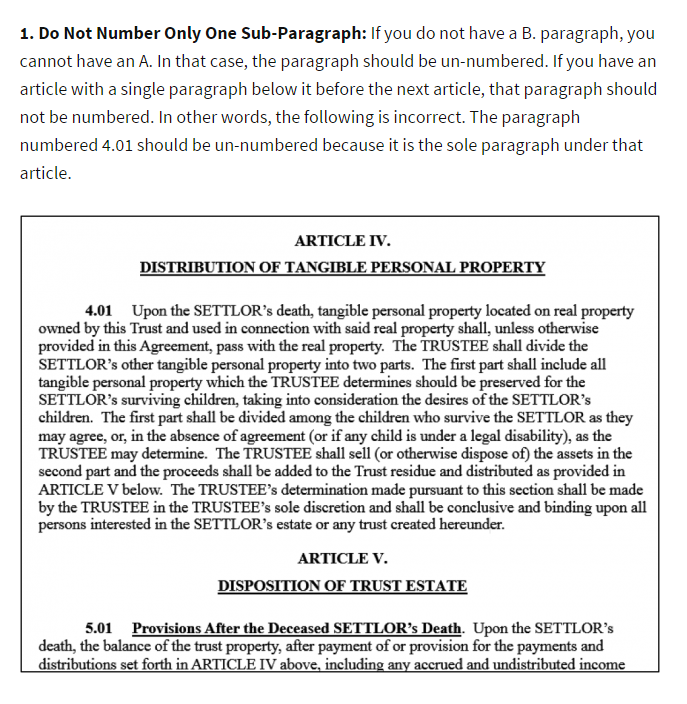 I would strive mightily to avoid having just one section in a given article. But if an article were to contain only one section, I, unlike Barron, would give that section a section number. Why? Because I want consistency—wherever a section is located in a contract, it gets a section number, and I can cross-refer to that section by using its section number. In other words, I treat an article purely as a repository of one or more sections. What do you think? Does this make me an outlaw?
Thus endeth the layout excitement.