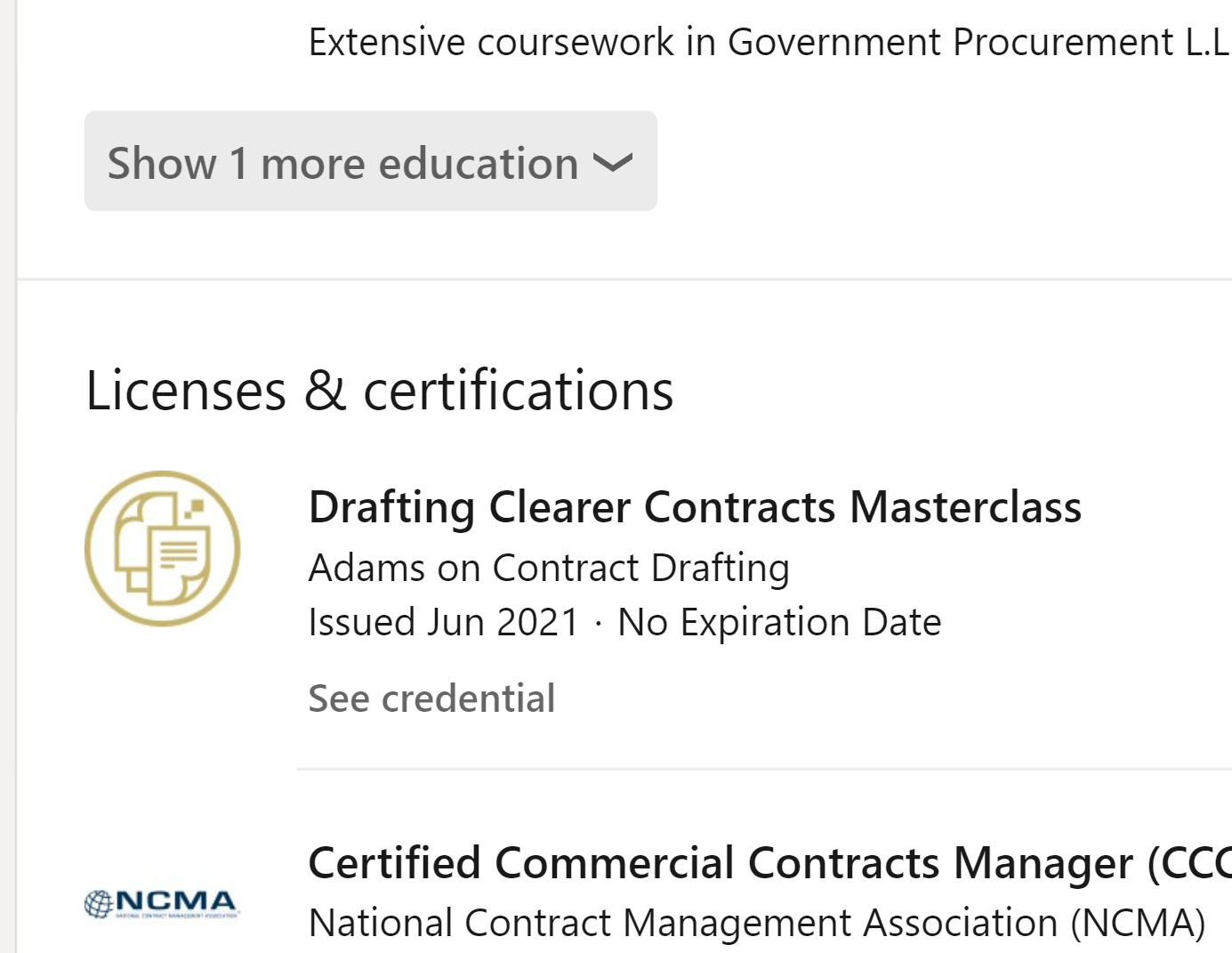 In 2021 I implemented digital credentials for my online course Drafting Clearer Contracts: Masterclass. I've now revisited the process and fixed some omissions. This post tells you how to get the credentials and how to use them.
To get the digital credentials, you have to click through every lesson in the curriculum, then click the button inviting you to get your certificate. Consult this Thinkific support page to see how to make sure you've viewed a given lesson ("lesson" is the word used for each item in the course curriculum) and have completed a lesson. Make sure you include the lessons between those for session 1 and session 2—in other words, the lessons relating to my extracts from the Salesforce master subscription agreement.
The credentials are issued by Accredible. When you complete the course, you'll receive an email from Accredible that will allow you to view your credentials. Your credentials come with an Accredible account; all you need to do is create a password for your account to ensure you always have access to your credentials. You can sign in at credential.net using the email address your credentials were issued to. If you have never set a password for your credentials, you can click 'Forgot password?' on credential.net. Accredible will send you an email to reset your password.
You have various options for using your credentials. You can upload the credentials to your LinkedIn profile. That's what Irvin Gray, among others, has done; see the screenshot above. You can put the clickable badge in your email signature, on your website, in your resume (I assume), and elsewhere. And you can share your unique URL with anyone, including potential employers. You can do all of that, or none of it. I'm trying to offer you options, by making the credentials available and having them look nice; the rest is up to you.
For Accredible's guidance on other ways to use your digital credentials, go here. And there's this video: