I recently spoke with a large company that was preparing to drastically reduce the number of template contracts that its lawyers and business people had to work with. The process was going to involve close review of its current templates, of which there were dozens. That seemed like a daunting prospect. Around the same time, I first heard of Wordsensa Professional, a technology aimed at greatly facilitating this sort of task. It was developed by Adsensa, and Sue Jakobek, VP Business Development of Adsensa, was kind enough to take the time to speak with me.
Q: Please tell us a bit about your company.
A: Adsensa is a UK company that develops intelligent software for making sense of text, paper, and PDF documents. In 2003 our founding directors, Martin Anderson and John Mountford, formed a team of leading software specialists to overcome the technical barriers to automated analysis and comparison of document content. Their objective was to develop a family of intelligent software tools to handle multiple documents efficiently.
Today, thousands of users in Europe and North America have access to Adsensa's unique technology, and the company is recognized as a leading supplier of software tools for document analysis and comparison. We work with companies and industry organizations to develop new solutions and technologies to meet emerging documentation challenges. In the process, we've developed powerful solutions tailored to specific market sectors, such as the legal, insurance, and real-estate industries.
Our leading product is Wordsensa Professional, a unique document-analysis and reporting toolset.
Q: What, in a nutshell, does Wordsensa Professional do?
A: By eliminating the need to read every document, Wordsensa Professional streamlines the task of comparing, analyzing, and verifying multiple documents. As a result, users are able to focus on the key issues. Wordsensa Professional also reduces the need for additional staff to handle large document-review tasks.
Wordsensa Professional can handle input documents in almost any format, including Word or other word processing formats and text, HTML, PDF, and scanned image formats.
Lawyers are using Wordsensa Professional to support a broad range of drafting and transactional tasks. These include creating new template documents and clause libraries, auditing change across whole sets of contracts, managing multi-party amendments, checking contract quality, and performing due diligence.
Q: How does it work?
A: At the heart of Wordsensa Professional is a high speed analytical engine that constructs an internal network of relationships between each element in a set of documents, thereby allowing the user to examine content through a series of views.
Analytical views can be selected according to the task at hand and include side by side and consolidated comparisons, grouping, conformance checking, document merge, redline merge, and redline audit. Full support is provided for PDF and scanned-image input, and documents can be compared and analysed regardless of the format in which they are read. This choice of views, coupled with Wordsensa Professional's powerful search capabilities, makes it easy for users to focus on what matters to them and navigate through document sets quickly, checking conformance and verifying the presence or absence of a particular provision, regardless of how provisions are ordered in the different documents.
A typical work cycle is described in the diagram below.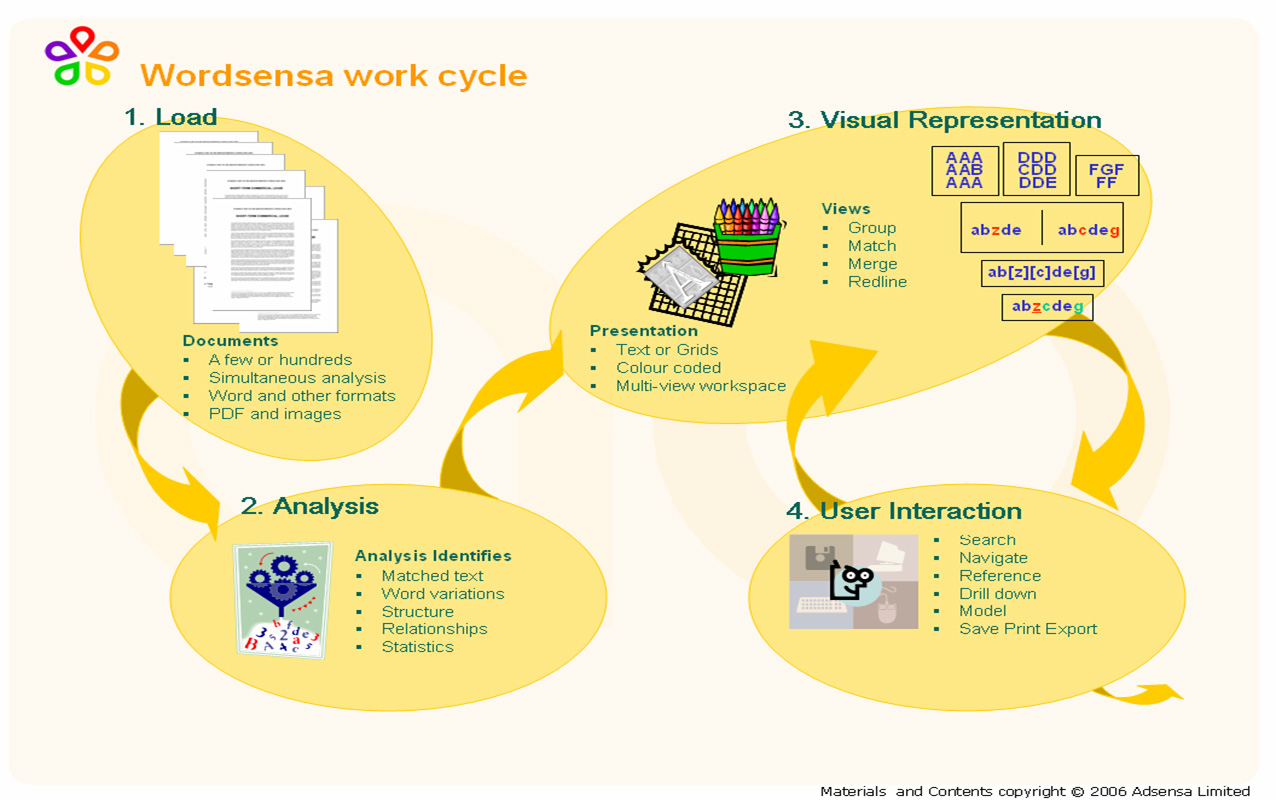 Q: How would Wordsensa Professional help contract drafters?
A: Wordsensa Professional helps contract drafters generate more quickly new contracts based on a body of precedent contracts.
Wordsensa analyzes source documents and categorises them according to their similarity. This allows users to quickly spot the common themes in a set of documents and to identify key groupings for further analysis. These similarity patterns are highlighted in the "Group" view (see screenshot below) and can be subject to more focused analysis.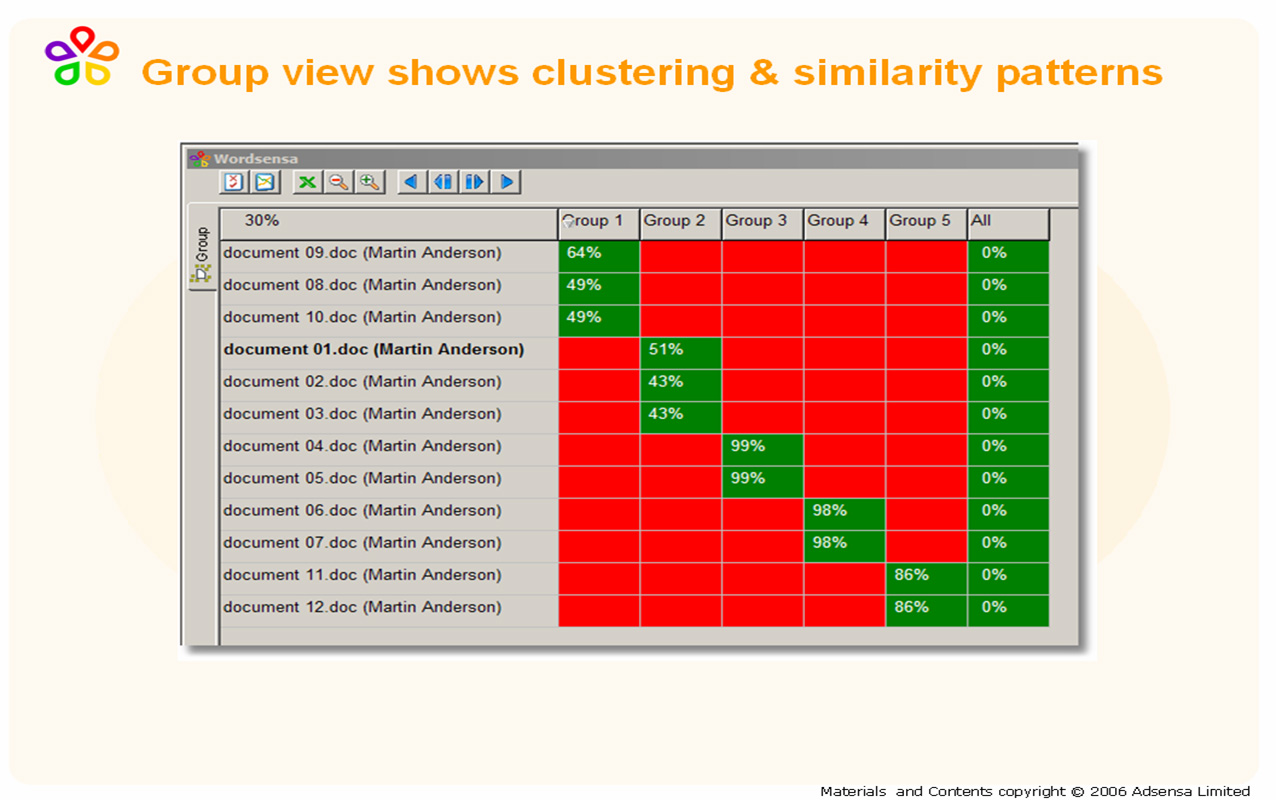 Using the "Merge" view, users can rapidly select frequently occurring provisions, or less frequently used but nonetheless important provisions, and group them into new precedent libraries. Users can easily save all such text as a Word document.
The "Merge" view is also designed to work closely with a number of document construction tools, so Wordsensa Professional can help prepare standard document templates for input into the document construction process. To facilitate this process, users can replace variable text, such as customer name or term, with a suitable label that can be picked up easily by drafting tools (see screenshot below).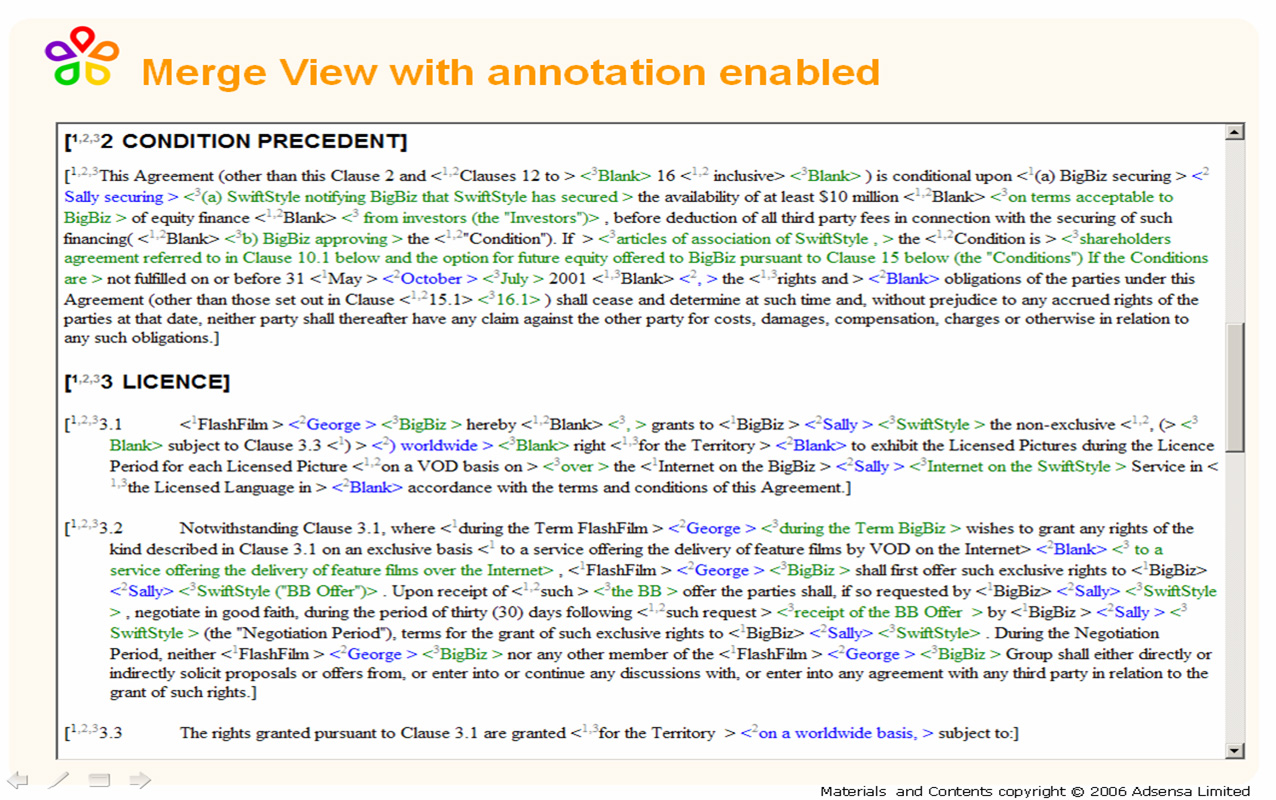 Q: In what ways does Wordsensa Professional improve on the current process of contract review?
A: Compared with traditional review methods, we've found that Wordsensa allows users to perform a given document review task 50% to 75% faster. And whereas the volume of documentation often means that those using traditional review methods have no choice but to resort to sampling, Wordsensa Professional can quickly analyze thousands of pages.
Wordsensa Professional can show the differences between all the documents in a series. In particular, it can show, in a single view, all the versions of a given provision as it has evolved—even if it has been moved to a different position in the document. And using the "Match" view, users can quickly identify corresponding paragraphs across the set and identify all variations within a particular provision (see screenshot below).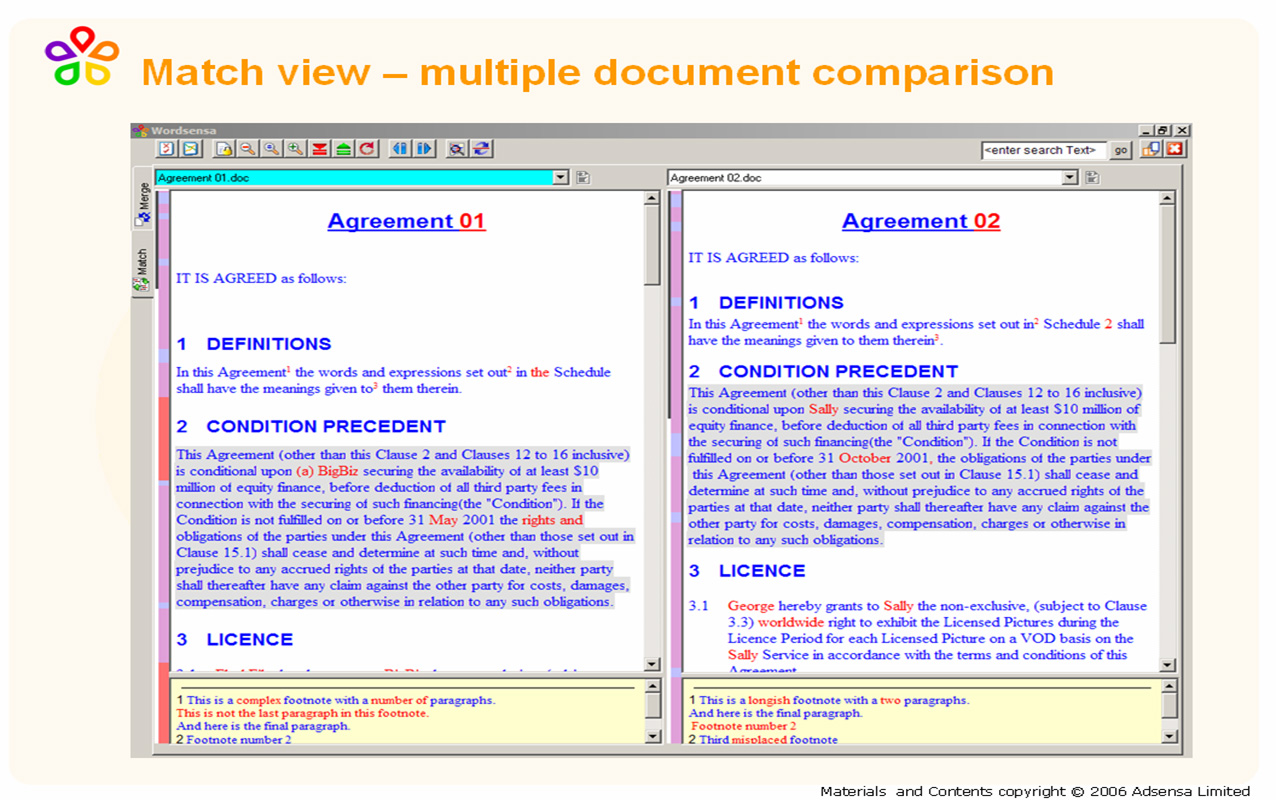 And users can check the final draft of a contract against a template to ensure that all required provisions are present and comply with any established standards. This feature is particularly useful if in the course of negotiations a contract is extensively revised and the provisions rearranged.
Q: Are some document sets more suitable than others for analysis by Wordsensa Professional?
A: No, Wordsensa Professional can handle both similar and dissimilar document sets. But the analytic techniques used will vary. Generally speaking, when analyzing similar documents, users will rely on Wordsensa Professional's "matched text" function. But when analyzing a single document or sets consisting of dissimilar documents, Wordsensa Professional incorporates three separate search-and-find tools that allow very rapid navigation and cross-checking so as to allow the user to verify whether one or more given provisions are present, missing, or exhibit variation.
Q: Who could particularly benefit from using Wordsensa Professional to review contracts?
A: Any lawyer or contract manager who regularly needs to review contracts, either for due diligence purposes or to compile new contracts.
Q: Do you have any competitors? If so, what distinguishes Wordsensa Professional?
A: Other document-comparison systems for the legal profession do exist, but they don't use Wordsensa Professional's methodical and comprehensive approach. To our knowledge, no single competitor matches the full range of Wordsensa Professional's functionality.
Q: What's involved in implementing Wordsensa Professional?
A: Getting started with Wordsensa is simple and straightforward. The software can be downloaded and installed on a desktop in a matter of minutes, and with just over an hour of training users are ready to start reviewing documents. They quickly become proficient in the basic functions, and with growing confidence most users are ready to tackle the more advanced functions that enable them to optimize their results and to work with a wide range of document types.
Q: What's your pricing?
A: We offer Wordsensa Professional for a one-time fee of $4,750 per user plus annual support charges, with discounts for customers with a large number of users.
Q: Where do things stand in your marketing of Wordsensa Professional?
A: Adsensa has focused on the insurance, financial services, and legal sectors. We're working closely with partners in those sectors in the US, Canada, and the UK to extend Adsensa's reach and to better understand their documentation challenges, and we aim to continue to produce powerful solutions tailored to specific sectors.
Q: How can readers find out more about Wordsensa Professional?
A: By visiting http://www.adsensa.com/leg_overview.html or emailing sue.jakobek@adsensa.com.