Today I did a "Drafting Clearer Contracts" seminar for the Utah State Bar. As with last year's seminar in Boise for the Idaho State Bar (see this blog post), it was sold out. And it appears that a worthwhile time was had by, if not all, then at least those with whom I spoke.
One of those in attendance was Mark J. Morrise, a trusts-and-estates lawyer with the Salt Lake City law firm Callister Nebeker & McCullough. Afterwards, Mark shared with me something that I think is pretty nifty—a two-page document entitled "Quick Reference to Categories of Contract Language." Go here for the PDF; below are images of both pages.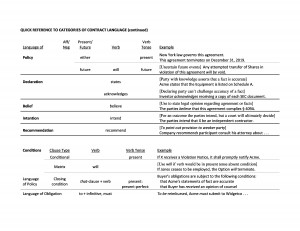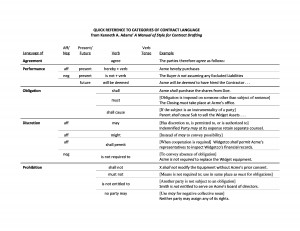 I can't comment on the details of Mark's document, as I haven't had time to look at it. But given the intricacies of MSCD's discussion of "categories of contract language," and given that I think it's the most important topic in the book, I like the idea of a quick reference.
I could imagine preparing an infographic-style quick reference. Let me know if you think that would be something worth doing.