Contrary to reputation, I'm not just a dry-as-dust, express-the-meaning-of-the-parties guy. I have a sensitive, truth-and-beauty side too. And to demonstrate that, I now bring you—cue tasteful music—the first AdamsDrafting art exhibit!
It showcases the work of Russell Christian, a talented illustrator. And it was made possible by that noted patron of the arts, Business Integrity, developer of ContractExpress document-assembly software (and sponsor of my seminars and webcasts).
But first, the backstory: At the invitation on Business Integrity, last October I was on a panel at the annual meeting of the Association of Corporate Counsel. The topic was, unsurprisingly, document assembly, and for the first part of the session we prepared a short PowerPoint presentation that featured half-a-dozen of Russell's illustrations. We had intended to turn it into an online movie, but unfortunately we had to scrap that idea. I nevertheless thought that Russell's illustrations deserved to be seen, hence this post.
Now, on to the artwork! The image below I call "The Markup from Hell." It expresses perfectly the suffering of a rational contract reviewer stuck in an irrational world. Think Hieronymus Bosch.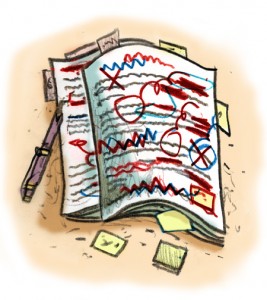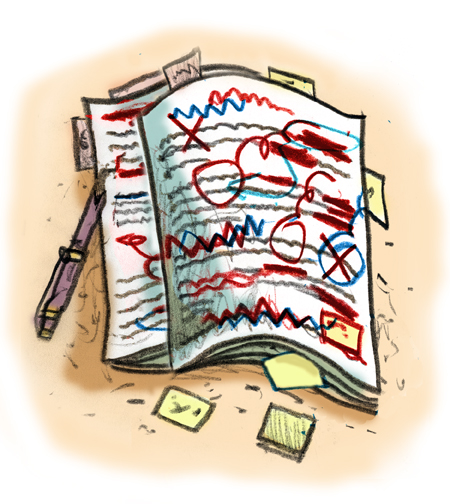 Next is "Ready for Signing." It's serene and pregnant with promise. I see de Heem! I see Cezanne!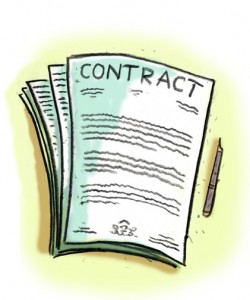 Below is the utopian "Commoditizing the Contract Process." I get choked up just looking at it.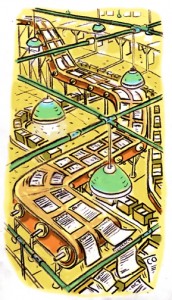 And lastly, we have an image that Russell created at the request of The National Law Journal to accompany my article "Dysfunctional Drafting." I call this one "The Mainstream Drafter." All joking aside, I think it's clever.

Here's the one sensible suggestion I have to offer based on my experience of putting together our PowerPoint presentation for the ACC session: investing in an original and imaginative set of illustrations is a great way to make your presentation distinctive. And it shouldn't cost very much. If that's something you want to explore, you might want to contact Russell.
By the way, note that the first three images are the property of Business Integrity and the fourth is the property of Russell or ALM.