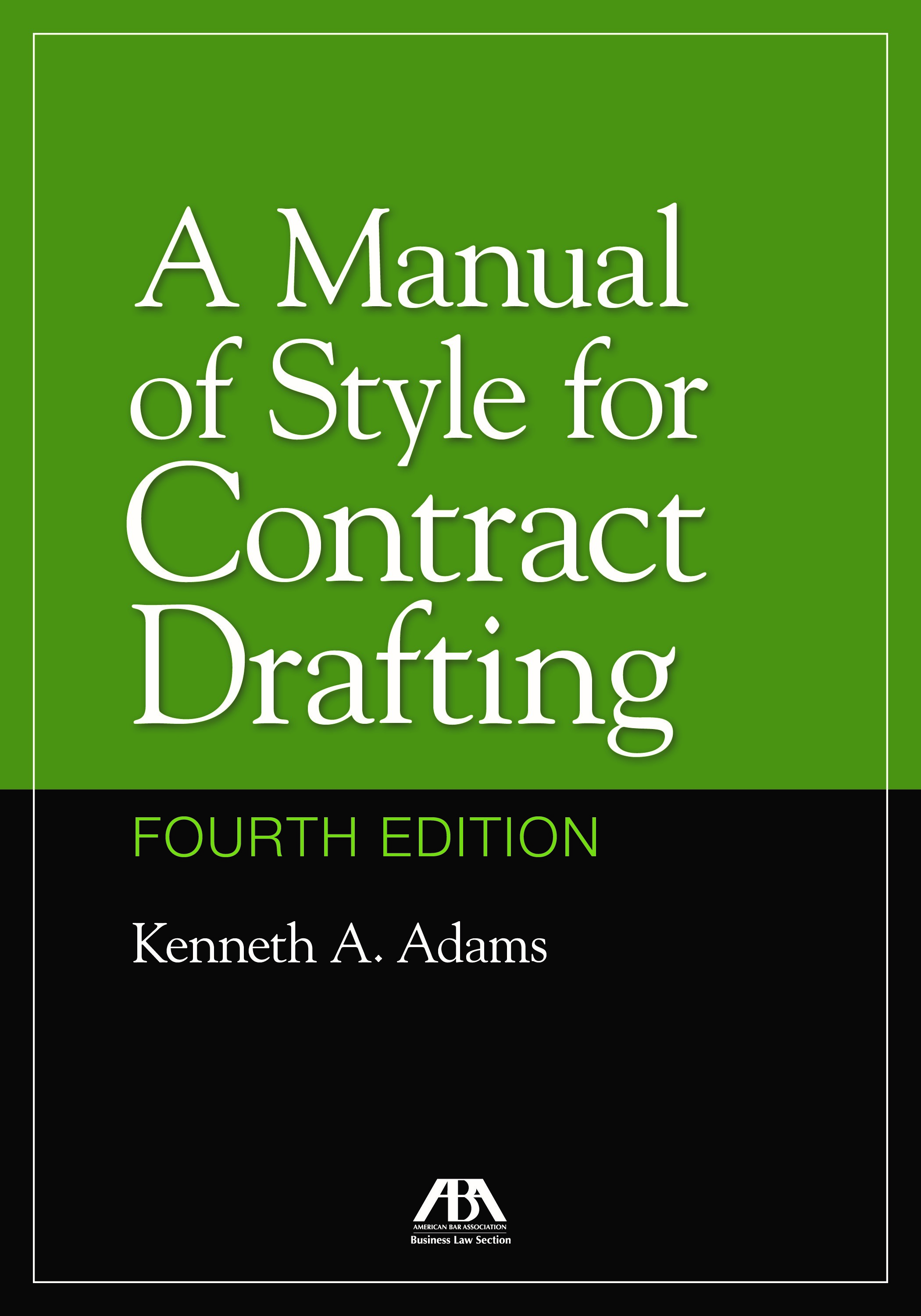 The print version of the fourth edition of A Manual of Style for Contract Drafting will arrive at the ABA warehouse on 10 October, but you can preorder it by going here. That being the case, next week I'll do posts about the foreword, the table of contents, the preface, the introduction, and the index.
The print version costs $119.95, unless you're an ABA member, in which case it's $109.95. That's around $20 more than what the ABA charged for the third edition, but I think that's fair. At just under 600 pages, the book includes almost 100 pages of new material. (I also eliminated around 20 pages that had been in the third edition, namely the chapter on drafting corporate resolutions and the unannotated version of the "before" contract in the appendix.) It's hardback, and that's more expensive. And the price for the third edition was set four years ago. At some point you'll probably be able to buy it for less on Amazon, but not for six months or so. (Copies for my in-house-seminar customers? Crazy. Discount.)
There will be ebook versions; we're turning our attention to that now.
Because of better planning on my part, the process of revising the text went more smoothly than with previous editions. I started relatively early, leaving enough time for me to enlist the invaluable assistance of my squad of volunteer readers. I made a point of tackling key issues in articles, so I was able to plug in substantial blocks of text with only some tweaking. I automated the cross-references—a couple of thousand of them, at a guess—so this time I'm more confident that they're accurate. We scoured the text for glitches; doubtless some remain, but I expect fewer than in previous editions.
Every aspect of the fourth edition is a big step up from the third edition, just as the third was a big step up from the second, and the second was a big step up from the first. That can't go on indefinitely; I think that with the fourth edition, MSCD is now a mature work. Doubtless I'll keep finding new stuff to write about, but the guidelines are now in place; time to focus on building.
Obviously, the image at the top of this post is the cover of the fourth edition. Consistent with the overall upgrade that the fourth edition represents, I think it's the nicest cover so far.