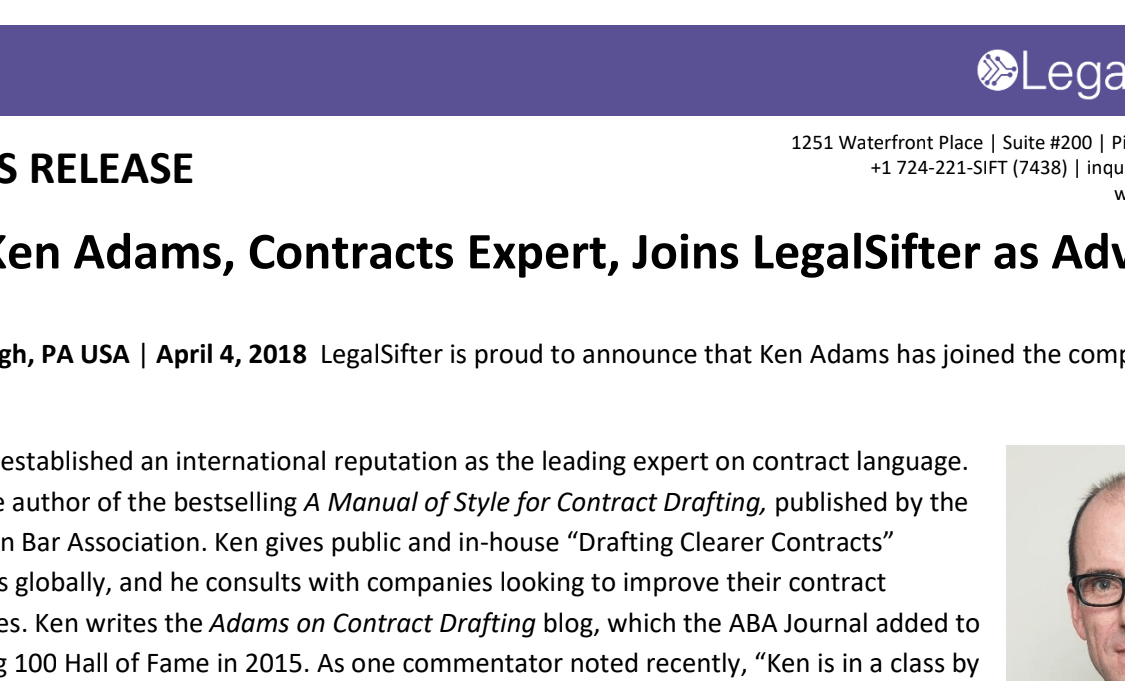 You recall that recent post about LawGeex's AI-versus-humans study (here)? In that post I mention LegalSifter, another company that uses technology to make review of the other side's drafts quicker and more effective. Well, soon after that post, Kevin Miller, LegalSifter's chief executive officer, invited me to join LegalSifter as an advisor. I happily accepted.
Go here for LegalSifter's news release. It says all there is to say, really. My work of creating a comprehensive set of guidelines for the building blocks of contract language is now pretty much done, so it's time for me to get down to what has been my goal all along: making the contracts process more effective by using technology to scale-up old-fashioned humanoid expertise.
Some think that as a matter of policy I disparage attempts to apply technology to the contracts process, but that's only when it's assumed that somehow the machines will make our decisions for us. That's not the case with LegalSifter.
Why LegalSifter? Because those who review contracts is a constituency that clearly could use some help. I'll continue all my other activities, including my quixotic quest to build a library of automated commercial contracts. But my role at LegalSifter is most certainly hands-on.
I'm happy to be part of a team. That will be a novel experience, after a dozen years of being my own guy. It's time to quit blogging in my bathrobe and learn to play nicely with others. I'm sure some of you are looking forward to that spectacle! ;-)
If you'd like a LegalSifter demo, contact Scott Jubeck, LegalSifter's VP – Marketing, at scott@legalsifter.com.
(By the way, in 2015 I mentioned on this blog that I had become an advisor to Lit IQ, which subsequently changed its name to LexCheck. The last work I did for them was in 2016, and I'm no longer their advisor, but I wish them well.)