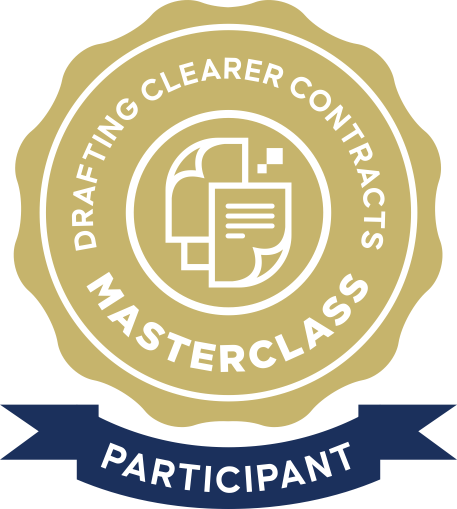 Last year the head of a government department that handles procurement had a dozen people on his team take my online course Drafting Clearer Contracts: Masterclass. Yesterday I asked him how it had gone. Here's the most relevant part of what he had to say: "What I heard from most attendees is that they didn't find your course useful in their everyday work, while a few thought otherwise. Those who aren't a fan felt that the course is geared towards legal professionals."
Here's what I said in reply:
Masterclass is for people who are in a position to make decisions about contract language, whether they're drafting or reviewing and whether the decisions are big or small. Lawyers generally have that kind of discretion, but others do too. If you don't have that kind of discretion, presumably you're making deal decisions following a playbook, whether written or unwritten. In that case, being an informed consumer of contract language won't be of much use to you, and neither will Masterclass. It sounds like that was the case for most of your people.
I followed up with another thought. Even if Masterclass goes beyond what someone needs for their day-to-day work, one could look at it as an opportunity. Anyone who is willing and able to become an informed consumer of contract language would have all sorts of new opportunities become available to them, at their current organization and other organizations.
For information about Masterclass, go here. For testimonials, go here.