In the past ten years I've done seminars in many countries. I haven't counted them, and it would be juvenile to list them, although I've sporadically done "Notes from the Road" posts about my travels (here). I've also visited many cities in the United States and Canada that I wouldn't have seen otherwise. So what do I get out of my travels? What do I lose?
The basic ingredients of an international trip consist of my flying to a given destination, making my way to a hotel (usually one that's part of a global chain), doing a seminar, grabbing a couple of meals—usually by myself—at local restaurants, working out at the hotel, and going for a run or a walk.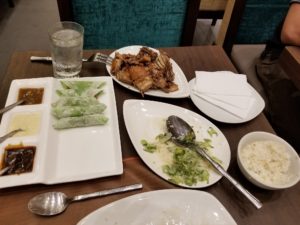 I just came back from Manila. That trip fit the pattern. Because I've sold my soul to Delta, I flew there and back via Detroit and Tokyo. I stayed at the Holiday Inn Hotel and Suites Makati, and that's where I did the seminar. I had dinner one night at a Filipino restaurant, Mangan, in the adjoining mall. The next night I had suckling pig, a Filipino specialty, at Mesa, a five-minute walk away. (In the photo to the left is my one-sixth of a suckling pig, minus what I'd already eaten.) I would have gone for a run, but given the traffic and a lack of enticing running routes, I limited myself to working out at the hotel and walking the streets around the hotel.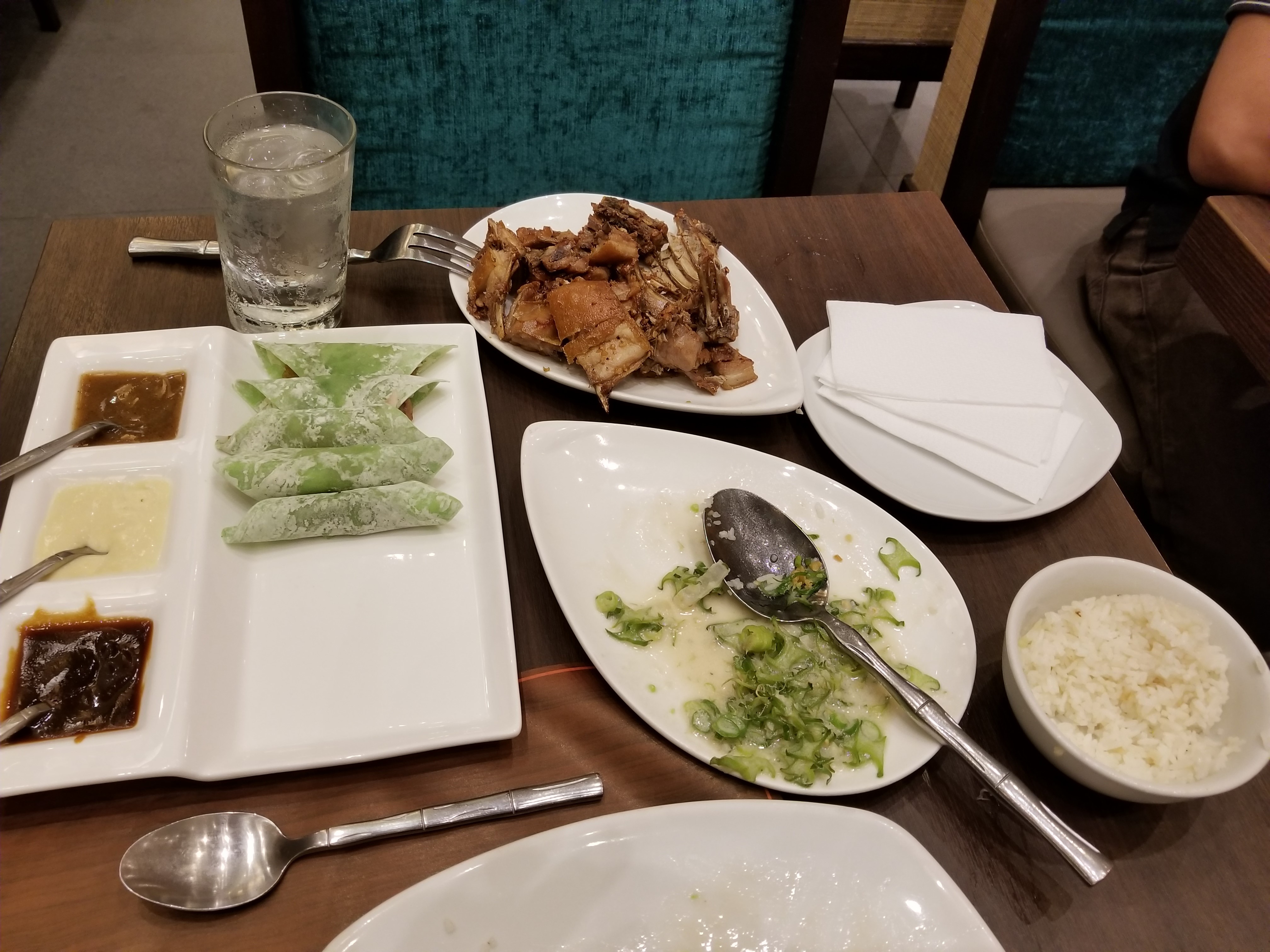 What do I get out of such trips? I don't mind the plane travel and hanging in hotels, but by now that side of things is routine. The restaurants range from mundane to memorable. The same goes for my excursions. (I particularly enjoyed running along the water in Geneva, Helsinki, Sydney, and Vancouver and a run along jungle trails in a Bangkok park.) But neither restraurants nor excursions could be said to make a trip. And whatever facts I glean about a given destination during the course of a trip, I could learn way more in an hour of reading.
It's the seminars that matter. Whether I'm speaking to six people—that's happened!—or 120, it's my job to make sure those taking part feel that the day was well spent. That's a matter of basic integrity, but it also helps spread the gospel of clear and modern contract drafting. The effect of a single seminar will likely be negligible, but do a few hundred and you start making a mark. At least that's what I tell myself.
I have an advantage over many business travellers, in that doing seminars is fun—I get to put on show and share my unlikely passion. And let's not forget that I get paid—giving seminars is part of my livelihood.
Beyond that, what makes a trip memorable is engaging with locals. ("Locals" might sound a little patronizing, but I can't think of a better term.) I do a bit of that during seminars, over lunch, but sometimes I'm lucky enough to be able to do more than that. I recall in particular my first trip to Seoul, described in this 2013 post. And the time when I bumped into a seminar participant in a Kuala Lumpur mall, and she insisted that I join her and her friends for dinner. What I get out of such encounters is entirely intangible—something shared—but I find them valuable.
What price do I pay for doing these trips? This Fast Company article describes the physical and mental toll of business travel, but I've not yet been ground down. I feel bad about leaving my wife, Joanne, for extended periods—when she married me, she didn't anticipate I'd morph into the globetrotting contract-drafting guy. And as a practical matter, it's hard to be efficient about getting work done when you're traveling. At some point I expect that as my other activities increase I'll have to restrain myself from accepting whatever seminar gigs come along.
But for now, the benefits of my nomadic life clearly exceed the cost. Interested in my upcoming seminars in Seoul, Singapore, Hong Kong, Shanghai, and Beijing? Go here for more information.