When it comes to products aimed at the contracts process, the flavor of the month AI. Ever a contrarian, that has been reason enough for me to take a look at what's new in automated contract creation, with content provided by humanoids. Recently I did this post about HelpSelf Legal. Today's post is about DraftLens, simply because the co-founders, Steve Shwartz and Wasim Quadir, got in touch. DraftLens offers a quick way to create customized M&A contracts. Here's my interview with them; at the end, I offer some thoughts of my own.
***
Ken: Tell us a little bit about your backgrounds and the inspiration behind DraftLens.
Wasim: Until recently, I was practicing corporate law at Arnold & Porter, in both the M&A and tech-transaction practices. It was my first job out of law school. I really enjoyed the work, particularly the drafting aspect of it, maybe even a little too much. My first year, I remember a colleague once complained to me that a partner would spend way too long talking about minor things like where to put a comma in a sentence. While nodding my head in sympathy, inwardly I was probably just as passionate as the partner about where to put that comma.
But seven years of long nights and reinventing the wheel for every deal convinced me that something was terribly broken with the drafting process. It was around this time that I met Steve through a mutual friend. Steve was a prolific coder with experience in natural language processing. It didn't take long to realize how applying our respective skill sets to the pain points of corporate attorneys could dramatically improve the practice of a transactional lawyer.
Ken: Why do you think the drafting process is "broken," as you describe it?
Wasim: We've talked to associates and partners at a wide range of firms and they all echo the same gripes about shortcomings in the process, many of which are on display in the thought-provoking paper The Inefficient Evolution of Merger Agreements. (I know you wrote about it here.) Finding a solid initial precedent is time consuming. Then, you have to dial back or dial up the strength of its provisions. You may need to layer in entirely new concepts, say a sellers' representative expense fund, so you have to remember where you last saw that kind of provision or hunt one down in some document trove. If you're diligent, you'll find several examples and read them against each other to build the right clause for your deal. And then there's the "administrative" work of checking cross-references, defined terms, and so on, in the process making sure everything fits together.
This all adds up to a painstaking amount of work, particularly for larger documents. Maybe 80% of it is recombining pre-existing concepts in the right way, using implicit rules that you learn from experience: exactly the kind of work machines are good at. But when the next deal comes along, we just repeat this cycle all over again, seldom capturing individual knowledge for the institution or developing firmwide best practices.
Ken: So what is DraftLens doing about it?
Wasim: We've built a platform that enables lawyers to construct high quality, complex transactional documents simply by clicking through a dynamic set of options, at both a high level and granular level of detail. I've described it to my non-lawyer friends as similar to when architects went from drafting with pencil and paper to using AutoCAD.
Our first product is in M&A. We've scoured thousands of SEC-filed agreements from top firms to build a powerful drafting engine. For example, you can—with just a few clicks—insert a working capital adjustment, make it two-step or one-step, allow for baseball arbitration, and impose a collar. And so on for all the various sections of the document until you've constructed a foundation that's highly tailored to your deal. It's always fun to watch people's reaction when they see the software instantly implement a change that recently took them several hours to do by hand, such as moving from a simultaneous sign-and-close to a delayed close.
We've also built deal intelligence right into the drafting process, giving lawyers the information they need when they need it. What does a middle-of-the-road accounts receivable rep look like? When you press a button to import the rep, a menu of options breaks out its negotiated aspects and provides guidance as to what's market. And it's fast: all of the edits in the screenshot below were made with one click.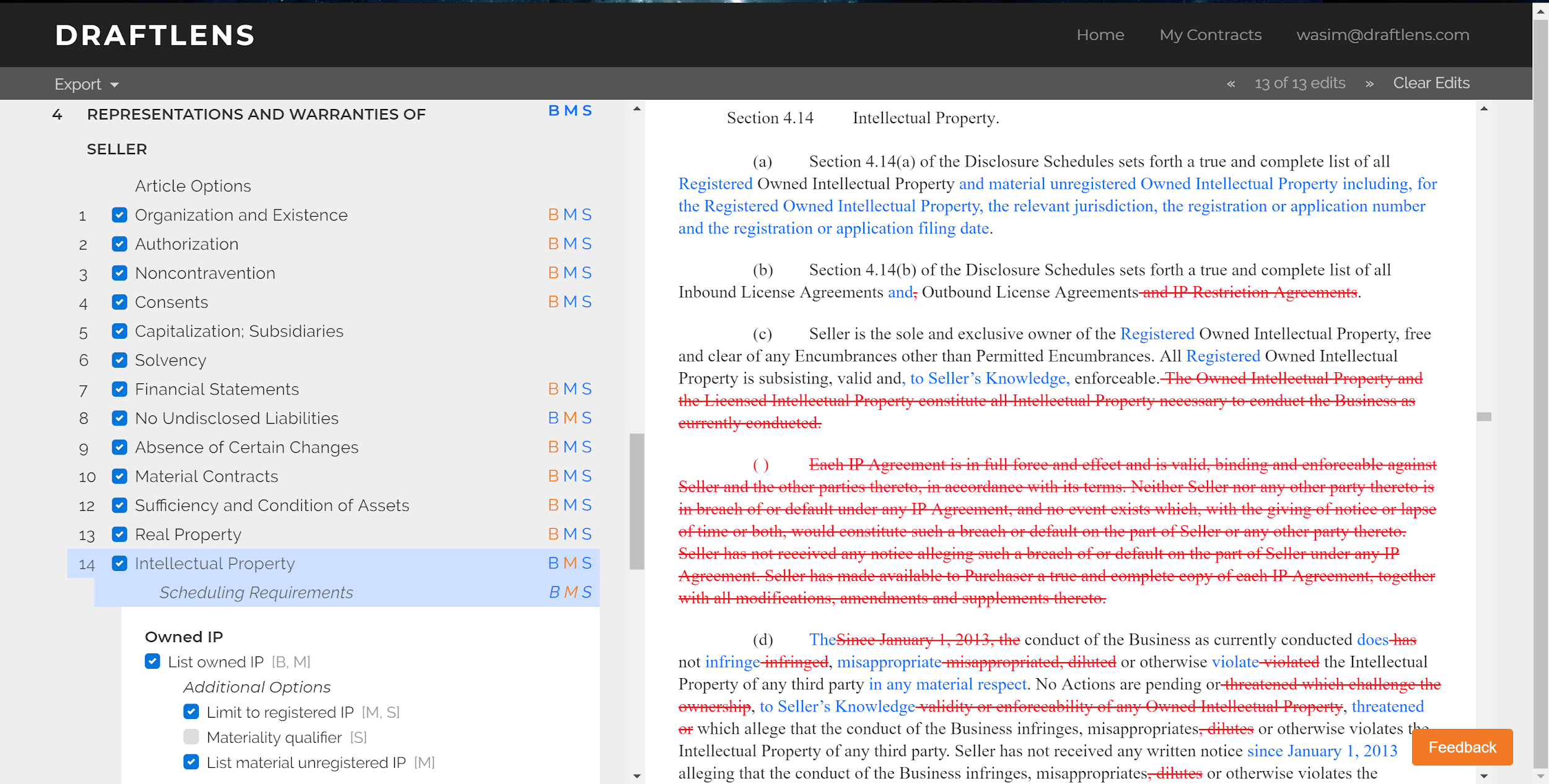 Ken: I've been writing about the idea of commoditizing M&A for about a decade (for example, here and here), but I've found the M&A bar reluctant to participate in this kind of discussion. Has anything changed?
Steve: Well, we're not trying to commoditize M&A—at least not yet. Rather, we're giving lawyers the granular control they're used to, while freeing them up to focus on the higher value tasks of thinking through critical decision points and drafting the truly unique aspects of the deal that our system can't anticipate.
But things do feel different now. On the software side, the technology has finally caught up and lawyers are increasingly comfortable with applying natural language processing to contracts, thanks in part to pioneers like Kira Systems, for purposes of due diligence. And pressure is mounting on law firms to become more efficient. Even among the Am Law 100 firms we've talked to, partners are reporting an increase in alternative fee arrangements and budget caps in high-value corporate transactions. Clients are asking in their RFPs about the innovative technology in place at firms and are awarding deals based on how firms respond. Lots of firms are preparing for these trends to continue.
Ken: How does your approach compare to automated contract creation offered by Contract Express, the software I'm used to?
Steve: Traditional document-assembly products are great for automating short forms or agreements with only a few moving parts. But we've found firms reluctant to invest the hundreds of hours of fee-earner time it would take to automate more complex documents. For example, an asset purchase agreement template might need to accommodate a single seller as well as multiple sellers, which would involve manually coding out different verb tenses for almost every sentence in a 60+ page agreement. The same goes for cross references, defined terms, formatting, list management, etc. We've built our entire software system around these challenges from day one. Rather than forcing firms to do the heavy lifting, we've built a robust M&A architecture which firms can leverage to generate highly tailored deal docs. Or, if they prefer, firms can work with us to shape the building blocks themselves by incorporating firm-specific language.
Ken: You've made the process more efficient, but if you're using language from SEC-filed agreements, then you're just recycling the same old dysfunction. (See this post for more about that.) Why not use the kind of content I write about in my books?
Steve: We're trying to pick our battles. Some firms are understandably reluctant to let software intrude into what has been the traditional domain of lawyers. While you and I might be convinced that clearer language is the way to go, not everyone is on board yet. Once the industry gets more comfortable with our approach, we can nudge lawyers towards simpler language.
Ken: Could a DraftLens user import their own language into DraftLens?
Steve: Short answer, yes. The long answer is that our templating engine is fairly complex, so we want to be very careful about the experience users have when using it. Until a user-friendly interface is ready, clients work alongside us to bring in language they want to "templatize". Users can also export the draft to Word at any time to make their own deal-specific edits. But giving clients the ability to directly create their own dynamic contracts is a high priority. Furthermore, we'd like to build a whole library of templates, so we see M&A as just a starting point. We're always thinking about which practice areas to expand into next.
Ken: Using someone else's contract content requires a leap of faith. You're not commentators or scholars. What would you say to someone considering DraftLens and wondering whether to make that leap?
Wasim: We're not simply offering up a static template to take the place of the lawyer's own forms. Rather, we're giving users granular control to build their own documents from our bucket of parts. So, in a sense, they are the authors, not us. Moreover, our source material consists of thousands of real-world documents from top firms—the language they are already accustomed to. And at the end of the day, if a user still wants to bring their own language into our templating engine, we can help make that happen.
Ken: Since businesses have an incentive to make sure their outside counsel are operating efficiently, have you thought about approaching trade groups or consortiums like the Corporate Legal Operations Consortium (CLOC)?
Steve: We're open to working with anyone! Our goal is to bring contract drafting into the modern age. If any person, group or company shares that goal and thinks we can help they should get in touch.
Ken: Thank you both, Steve and Wasim.
Wasim: It's been our pleasure.
***
OK, Ken here with three concluding thoughts.
First, I agree with Steve that law firms aren't keen on doing the work required for automation. DraftLens is in the process of doing that work, hoping to reap economies of scale. And that's exactly what anyone opting to load an M&A template on Contract Express would be hoping for. So the difference between DraftLens and a product based on Contract Express would depend on how much customization and guidance you want to offer. For example, my automated confidentiality agreement provides way more guidance than DraftLens does, but Wasim and Steve might not want that—they've built a product for people who know what they're doing, not people who want to learn.
Second, traditional M&A drafting is a disgrace, with smart people stuck in a system that has them slinging dysfunctional prose. That's I could see that's what DraftLens uses (although I didn't look closely at the text), but I think Wasim and Steve have made a sensible choice. They don't have the clout to promote systemic content change, so they're simply looking to gain customers by allowing people to do more efficiently what they've always done.
And third, in response to my question about the leap of faith required to use someone else's content, Wasim was too coy in saying that the user is the author—selecting from among prose authored by DraftLens doesn't make one the author of that prose. But I think that Wasim and Steve are right not to be too worried about their credentials as commentators and scholars: there's no shortage of lawyers willing to copy stuff they find while rooting around online, so the M&A bar has no basis for getting snooty about DraftLens.
I hope DraftLens isn't where improving the M&A drafting process ends, but it's a step in the right direction.