The engine driving my rebranding (described in this blog post) was my new logo, by my new graphic designer, Gothard. Yes, that's it, above. (I also have four Drafting Clearer Contracts variants.) I think it's great.
I got it through a contest I ran using 99designs. I chose to do a "Platinum" contest, the most expensive level—I had one shot, so I wanted to attract talented designers.
The challenge I posed designers wasn't an easy one—give me a design that evokes drafting clearer contracts. I was able to decline around half the designs because they featured cliché legal iconography—fountain pens, clasped hands, and so on. The rest included some nice designs, but they had a corporate vibe.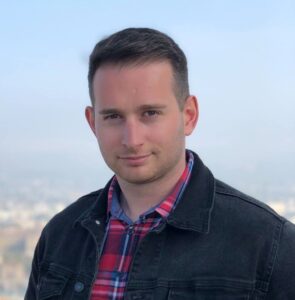 I was looking for that je ne sais quoi. And one design had it—Gothard's. At my request he made one small change, and it was done.
What do I like about it? It captures the element of mystery that somehow I think lurks at the heart of what I do. Don't laugh, but it brought to mind the word "cabalistic."
So I'm now a big fan of Gothard. (That's him to the right.) He provided images for my new website (see this blog post), he designed my Masterclass digital badge and certificate (see this blog post), and he did my new PowerPoint slides (see this blog post).
I asked him to provide a bio for this post. Here it is:
Hi everyone.

I'm Hungarian, but all my life I've lived in Transylvania, in Romania.

I've been working as a graphic designer for the past seven years, since I got my bachelor's degree in communications and branding. In 2018 I founded my own graphic design agency, Vantabrand. From a small office in my hometown, I work for clients worldwide, many of them small- and medium-size companies from the US and the UK.

Logo design and corporate identity are what I love and what I do best, but I also do UI/UX design, I design and build WordPress sites, and I create flyers, social media images, PowerPoint presentations, and anything else related to branding and design.

I'm married, and now I'm the proud father of a baby girl. I play football once a week, I love cooking and reading, and I'm a fan of art, especially from the Renaissance, because of the fine details and hidden symbolism. It reminds me to find touches of inspiration in my work.

I truly enjoy what I do, so I have no problem with working hard.
Quality design makes a big difference. If you're looking for quality design, you could spare yourself the sort of design contest I did and go straight to Gothard. He's at www.vantabrand.com, vantabrand@gmail.com, and www.instagram.com/vantabrand.design/. Tell him Ken sent you.