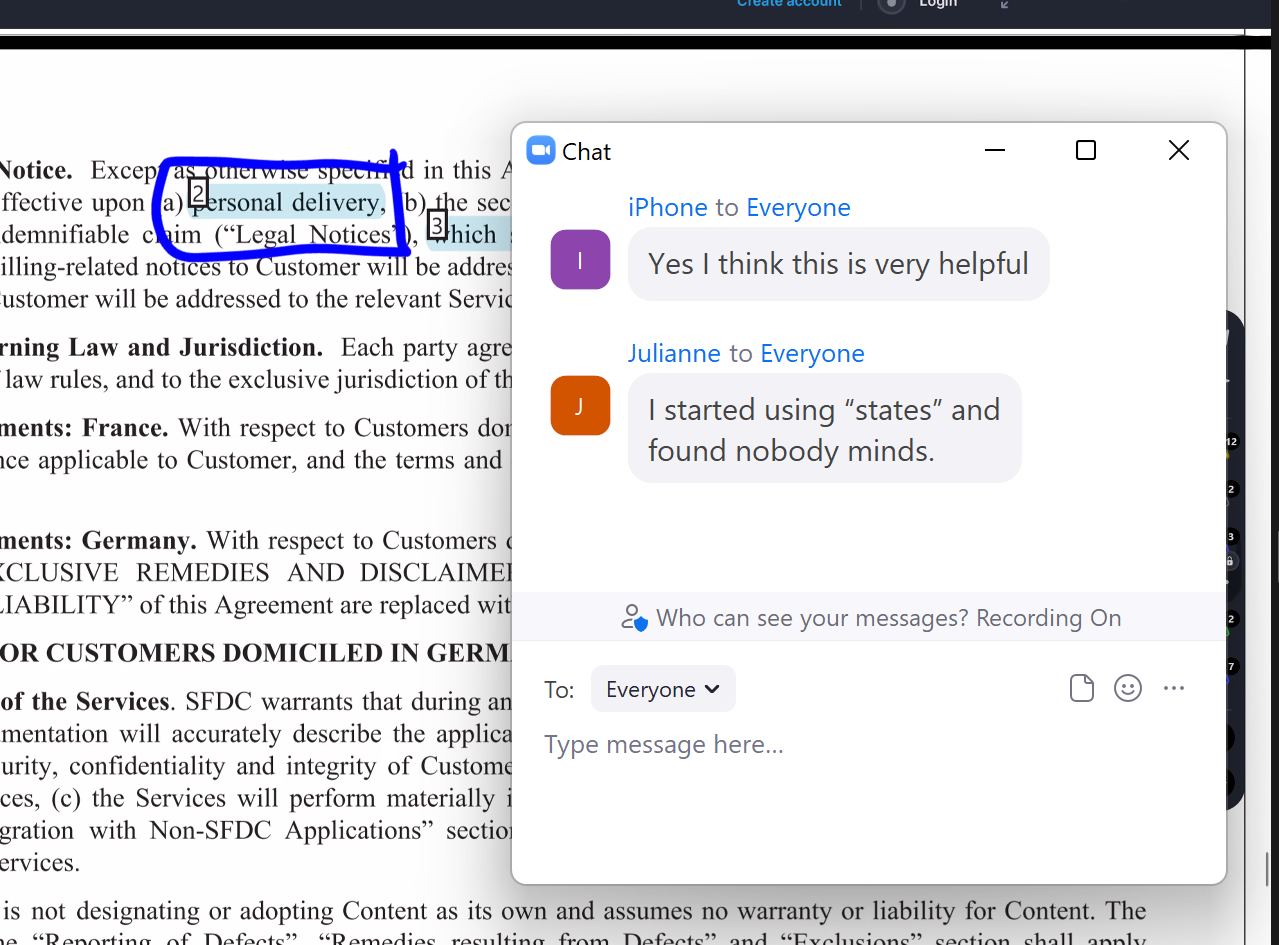 Last week, during a session of my online course Drafting Clearer Contracts: Masterclass, out of the blue I saw this in the chat window:
I started using "states" and found nobody minds.
That's one way real change happens—when no one notices.
I followed up with Julianne, and here's what she said:
I had often wondered why drafters use difficult or confusing language when introducing statements of fact. Using states instead is a simple and elegant solution. I'm giving it a try, and so far no one has said anything. If anyone asks me about it, I'll point them to MSCD or your 2015 law review article.
Julianne's experience matches that of Kevin Heaney. I wrote about his use of states in this 2020 blog post.
Mind you, some people do have a problem with states. In an email to me last week, someone said that using states in a mergers-and-acquisitions contract instead of represents and warrants would cause all sorts of consternation. I agree—if a usage is entrenched and isn't too annoying (and that's the case with represents and warrants in M&A), it might be best to leave well enough alone for purposes of a one-off transaction.
They also suggested that even if parties accept states and it's used in their contract, litigators might ultimately try to make mischief by arguing that it must mean something other than represents and warrants. And in a similar vein, in this comment to yesterday's post, someone expressed concern that using states could preclude an action for misrepresentation. I don't share those concerns. For one thing, represents and warrants is a fiasco, states is clear, and no U.S. court has ever decided remedies based on what verb is used to introduce statements of fact.
And if you care about remedies, you have the power, you have the responsibility, to be explicit about it, instead of indulging in addled legalistic make-believe code. For example, you could say this in your contract: The verb used to introduce a statement of fact in this agreement is not intended to affect the remedies available for inaccuracy of that statement of fact. Or you could preclude, or permit, whatever the heck remedy you're concerned about.
States. It's here, it's clear, get used to it.