For a couple of years I used my Wacom Graphire Wireless tablet to annotate PowerPoint slides during my seminars. (I wrote about it in this 2009 post on the AdamsDrafting blog.) It doesn't have a screen—instead, it has a flat surface on which I wrote with a pen-like stylus, with my scribbles appearing on the projected image of my laptop screen. It was intended for graphic artists, meaning that I used only a small fraction of its functionality. But that small fraction was important, in that it allowed me to to make my annotations while engaging with participants.
But then Wacom discontinued the tablet. And my tablet started acting up. Ultimately, I had to do the equivalent of applying a defibrillator to get it going, and even then it worked only half the time. So I needed a replacement.
I contemplated getting another Wacom wireless tablet, the Intuos4 Wireless. It's a nifty device, my old tablet on steroids. But I decided that given all its graphic-arts bells and whistles (and a price tag of around $370), I'd feel like a chump using it just for my PowerPoint presentations—like using a Lamborghini for a home-to-train-station commute.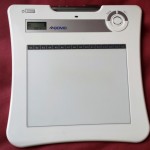 So I roamed around on Google looking for an alternative … and the only one I found was the Qomo QIT30. (Who Qomo?, I hear you ask. It's a Michigan-based company that offers a line of presentation-technology products.) So I purchased a QIT30 from B&H for $191.95 plus tax and shipping. Contact your local Qomo representative (see this map) to determine who distributes the QIT30 in your area.
I gave the QIT30 its first workout at my Boston "Drafting Clearer Contracts" seminar last week, and I'm very pleased with it. Some thoughts:
Forget what the specifications say—the QIT30 is noticeably lighter than the Wacom tablet.
I prefer making annotations with the QIT30. I don't know whether it's because of the slightly textured surface of the active area or because it uses 2.4 GHz RF technology rather than Bluetooth.
The Wacom tablet allowed me to erase all my annotations on a slide by clicking once the rocker switch on the pen. The QIT30 offers only preset options on its pen, meaning that I'd have to use the pen's rocker switch to effect a mouse click, select an item from the resulting drop-down menu, then select another item from a second drop-down menu. So instead, I programmed the QIT30's 16 programmable "macro keys" running along the top of the active area so that pressing with the pen on any one of the keys erases all annotations. That means I have to look at the tablet momentarily when I want to erase any annotations, but that's a small price to pay.
What I lose by not being able to erase using the pen rocker switch, I gain with the QIT30's page-up, page-down buttons. With the Wacom tablet, I had to either use the pen to click on the applicable arrow at the bottom-left corner of the PowerPoint screen or use a separate clicker.
In an iPad world, the QIT30 wouldn't win prizes for cool. Think high school rather than tech startup.
The QIT30 comes with the crappiest set of instructions ever. Get a halfway-decent technical writer, guys! Thankfully, their support personnel were very helpful.
The QIT30 allows me to use PowerPoint's pen tool. But if you install on your computer the free Flow!Works software, you can use the tablet to annotate any screen, including Word documents and PDFs. I expect that will come in handy.
I found nothing online to suggest that you can conveniently use an iPad or its ilk to annotate a projected PowerPoint presentation. I could be wrong.
When running the TSA gantlet at airports, the Wacom tablet prompted some puzzlement and some swabbing for who-knows-what. I reckon that the QIT30 will elicit the same response. But I hope it becomes better known, as annotating helps make PowerPoint presentations more engaging. If you routinely give PowerPoint presentations or are in charge of coordinating PowerPoint presentations by others, I recommend that you check out the QIT30.