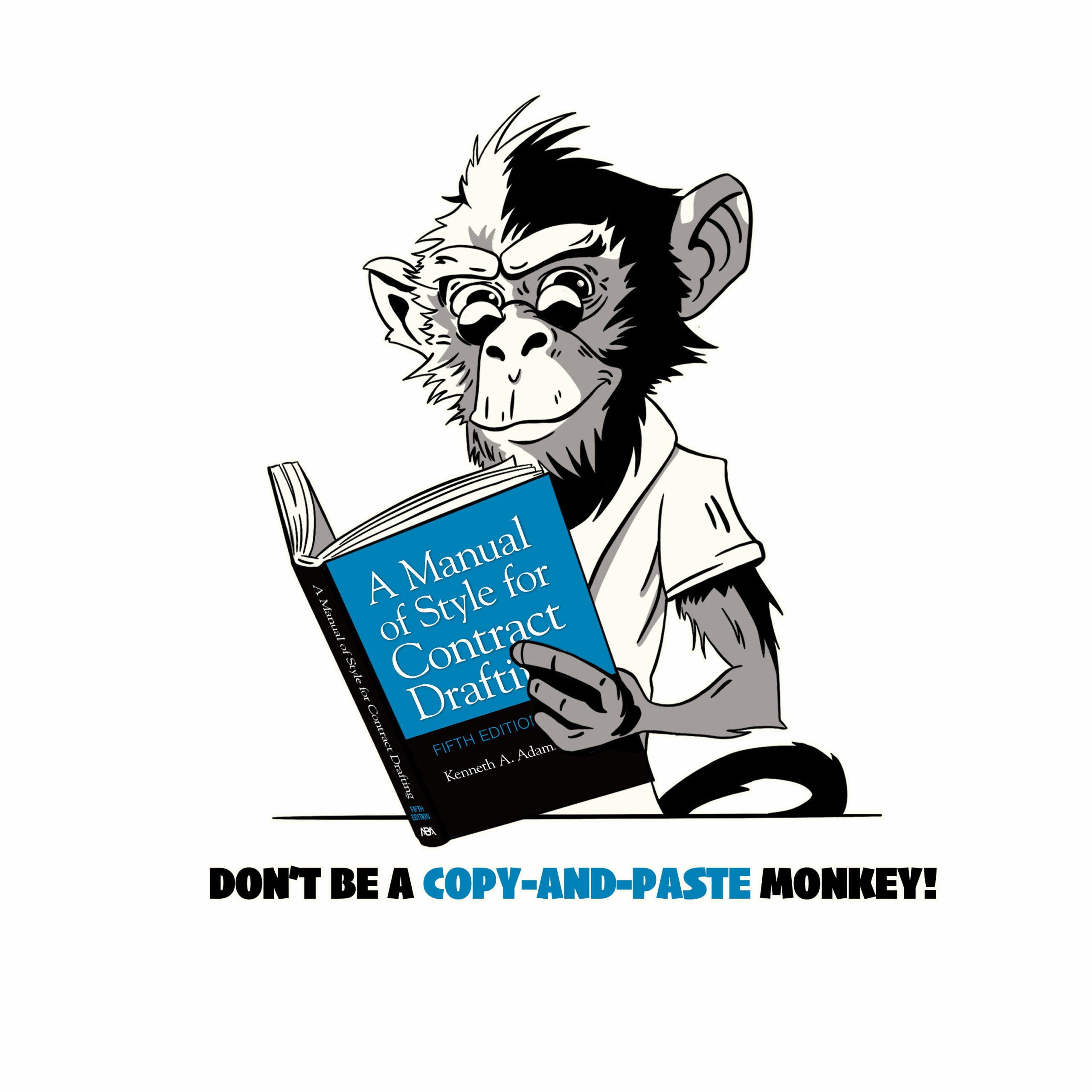 In this post I discuss the illustration above. It graces one of the T-shirts and one of the mugs on offer in my new A Manual of Style for Contract Drafting merchandise store (here). I set up my store as a light-hearted way to allow those who value MSCD to express that. But if anything is worth doing, it's worth doing well. I wanted to offer more than just items bearing the cover of MSCD, so I ran a contest on 99designs to see what kind of design I'd be offered to express the slogan Don't be a copy-and-paste monkey.
This was the second 99designs contest I've done. I did the first one to get a new logo. The winner, Gothard, submitted the logo I now use. I think it's awesome. For more about Gothard and that contest, see this blog post. It's just as well Gothard took part in that contest, because I wasn't keen about any of the other designs.
This time around, I was prepared for the same outcome, and that's what happened. The winning design was the only one that grabbed me, but one design was all I needed. The initial design wasn't exactly what I was looking for, so the designer and I engaged in a back-and-forth that resulted in the version you see above.
The person responsible for the winning design was Moh Soumeur. They're a visual artist and designer, and they work in two-dimensional and three-dimensional designs. You can reach them at moh.soumeur@gmail.com.
That's all I know about Moh. I don't know if Moh is a man or a woman. I don't know where they live. I don't care—the design and Moh's helpfulness in making revisions were all that mattered.
An original illustration can make all the difference in how people respond to a project. If you could use a designer and you like the creativity on display in the design Moh did for me, you might want to contact them.