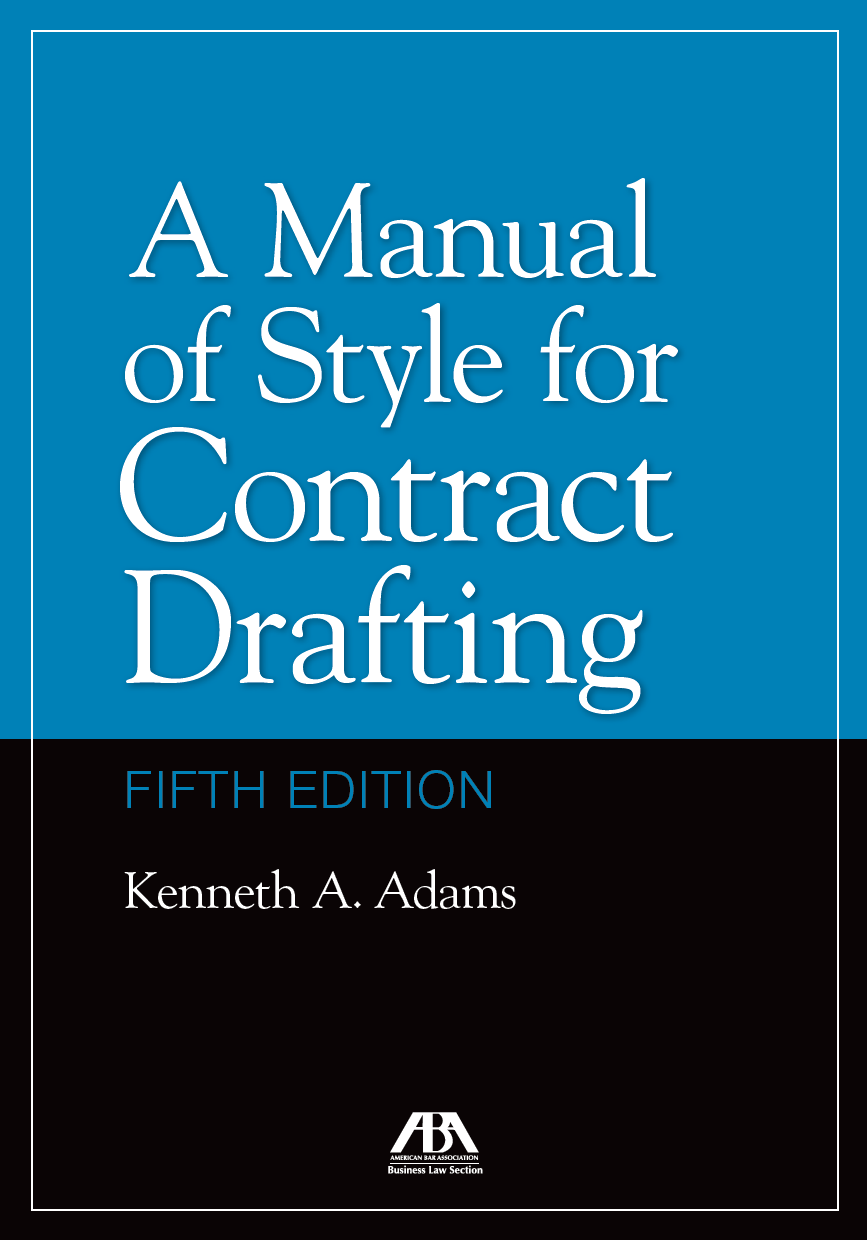 So the fifth edition of A Manual of Style for Contract Drafting has been unleashed. (Buy it here!) You own the fourth edition and are wondering whether you should fork over for MSCD5 US$139.95 plus any tax and shipping. If working with contracts is an important part of what you do and you've found MSCD4 valuable, I think you'd appreciate what MSCD5 has to offer.
What's Entirely New
For one thing, there's what's entirely new. That's listed in the preface. For example, chapter 3 (Categories of Contract Language) has a new opening (see this blog post) and new sections on the following: using the subjunctive mood; separating the subject and verb from the rest of the sentence; using now in language of performance; how the has a duty test works; when language of discretion is inappropriate; using may to express an exclusive option; using language of policy to obfuscate; how represents and warrants is conducive to disorder; future facts; dual verb structures; and an expedient way to express company obligations in standard terms.
And I added to chapter 13 (Selected Usages) sections on the following: abrogate; anniversary month; appurtenant; as between the parties; both X and Y, either X or Y; coterminous; deliver by hand; derogate; disparagement; effluxion of time; guarantees—absolute, continuing, irrevocable, and unconditional; habendum; legally; not be concerned to see; notify; setoff, offset; principle of least privilege; public domain; subsisting; termination for cause; vest; and waiver of presentment.
Other new stuff is scattered in other chapters.
What's Revised
But just as important is how I've revised what was already in MSCD4. (The extra material, whether it's in what's entirely new or what's revised, amounts to 77 pages.) Here's what comes to mind:
I overhauled chapter 1 (The Characteristics of Optimal Contract Language), expanding it from six topics to 12. It does a much better job of explaining what makes contract language different.
I expanded and reorganized chapter 6 (Defined Terms), so it's now more comprehensive and better organized.
Chapter 8 (Reasonable Efforts and Its Variants) contains much from my 2019 law review article on the subject, and more.
Chapter 9 (Material and Material Adverse Change) contains the gist of my forthcoming article on the ambiguity of material. I won't get into that until the article become available, but fasten your seat belts—it might be the most innovative thing I've written.
I finally got serious about consequential damages. With input from the most sensible commentators on the subject, I entirely rewrote that section; see this blog post.
And I'm particularly fond of how I've expanded and reorganized the discussion of including in chapter 13. It's a ridiculously subtle and messed-up topic. Of course, it features the awesomest part of the fifth edition!
The Prose
With the help of a squad of volunteers, I worked hard on the prose. See this blog post and this blog post for more about that. More could have been done if we had been in a position to spend thousands of dollars on a dozen serious copyeditors, but that wasn't the case. Nevertheless, I think the prose is way more readable than the technical nature of the subject might lead you to think.
Eliminating Glitches
I was eager to eliminate mistakes. For one thing, I hired a law student (hi, Dave!) to check the thousands of cross-references (see this blog post). Some will still be wrong, but way fewer than previously.
I was also on the lookout for internal inconsistencies (see this blog post). That was always a risk, given the sprawling nature of the endeavor and given that I've been working on it for 20 years.
It still contains mistakes. When you find them, please tell me about them!
The Upshot
When MSCD4 went to print, I said that MSCD had long ago left earth orbit and was entering the Kuiper belt. Well, I guess it's now leaving the solar system!